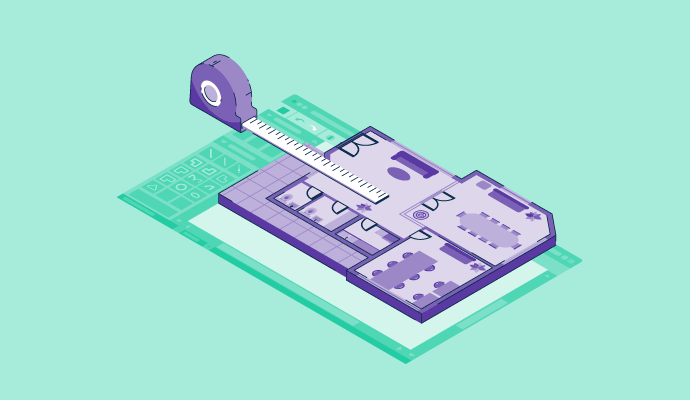 Prepare to be floored.
We all want to build our dream house or office once in this lifetime. And it all begins with a strong foundation, quite literally comprising detailed floor plans and the ability to visualize these layouts. Floor plans are essentially the stepping stones (pun intended) to understanding what a space will look like when it comes to life.
Floor plans show the relationship between rooms and furniture and make it easier to decide whether a dedicated area is suitable for its intended purpose.
Although designing, in general, can seem intimidating, technology such as architectural rendering software and general-purpose CAD software makes experimenting with design elements a lot easier, interactive, and way more fun, enabling you to see the big picture.
Noted architect Jean Nouvel once said, "Space, space: architects always talk about space! But creating a space is not automatically doing architecture. With the same space, you can make a masterpiece or cause a disaster."
Floors are an essential part of building and designing projects and can make or break the fruition of an idea. Consequently, what's interesting about floor plan software is that it's used in different industries, including engineering, architecture, interior design, and real estate.
What is the best free floor plan software for 2022?
The following tools are ranked alphabetically:
AutoCAD Architecture
Autodesk Civil 3D
Draft it
Floorplanner
Live Home 3D
PlanningWiz Floor Planner
Roomle
RoomSketcher
SketchUp
SmartDraw
Sweet Home 3D
Best free floor plan software
Whether you're looking to build parts of a project or design a whole new world, floor plan software helps you dream big without burning holes in your wallet.
The list below contains real user reviews, and in the context of this list, vendors that offer a free trial are also considered free. To be included on this list, a solution must have at least one of the following features:
Provide 2D or 3D computer-aided design tools
Enable users to visualize their structures in 3D
Include rendering features such as shading, texture editing, and lighting
Use in multiple industries
Allow users to edit 3D objects
Provide a customizable platform
Offer specialized tools for designing one or more types of diagrams, such as organizational charts and floorplans
*This data was pulled from G2 on April 20, 2022, and the product list is ranked in alphabetical order. Some reviews may have been edited for clarity.
1. AutoCAD Architecture by Autodesk
Category: Building Design and Building Information Modeling (BIM) Software
The AutoCAD Architecture toolset leverages architecture, engineering, and construction (AEC) features to design elements, objects, and floor plans that are realistic and spatially aware. It has an architectural library of 8,500+ components and an automatic generator for plans, elevations, sections, and ceiling grids.
What users like:
"AutoCAD is an easy tool to begin your project and draft it on the computer. It allows for a creative environment and is much easier to scale, draw a quick plan, or a whole set of construction documents. The software allows you to learn and have experience, which can be used in advanced 3D tools."
– AutoCAD Architecture Review, Carol J.
What users dislike:
"The only thing I dislike about this software is that it takes time to load some of the options, increasing performance time and reducing productivity."
– AutoCAD Architecture Review, Rishabh B.
2. Civil 3D by Autodesk
Category: Civil Engineering Design Software
Civil 3D supports civil infrastructure projects, including roads and highways and rail and site development, to improve project delivery and reduce risk and errors. Users can also streamline corridor design, intersection design, parcel layout, site grading, and piping design with specific tools and customizable features.
What users like:
"As someone who is design-oriented, I like the limitless possibilities that Civil 3D offers. Minimal training allows me to produce logos, pictures, street layouts, design maps, and 2D or 3D images. There are a ton of commands, but there are also the basics that will get you to your end-goal fairly easily."
– Civil 3D Review, Richard R.
What users dislike:
"Civil 3D is not the most accessible software to learn and use. Getting to the point where you can use all features and functions to their optimum capability takes time and great practice."
– Civil 3D Review, Shaya M.
3. Draft it by CAD Logic
Category: Architectural Rendering Software
A 2D CAD drawing solution, Draft it provides architects with powerful drawing tools and supports the import of AutoCAD files. The software equips users with dynamic editing functions, design components, symbols, and a comprehensive help system. It has four free versions that can be leveraged to create professional drawings and projects.
What users like:
"Draft is a user-friendly 2D architectural CAD platform. It has basic floor plan diagramming capabilities and is great for non-technical persons to acquire practice in the architectural design field since it has varying metrics and units to work with."
– Draft it Review, Corrine H.
What users dislike:
"Layering tools are not intuitive. The automatic 3D Model Viewer is not exactly automatic."
– Draft it Review, Corrine H.
4. Floorplanner
Category: Architectural Rendering Software
Floorplanner is floor planner software used in architecture, real estate, furniture retail, and education. The tool simplifies creating accurate 2D and 3D drawings at the correct scale. Its easy-to-use and intuitive editor and furniture library help create and share interactive floor plans with clients online.
What users like:
"What I liked most was the ease of creating walls of the correct size, placing windows and doors, and making measurements. The displacement is also easy to work with, including the approach and distance. It is an online tool that works very fast and has many options."
– Floorplanner Review, Fernanda M.
What users dislike:
"Features, like the new dashboard, need more attention. It is still full of bugs and doesn't quite work all the time."
– Floorplanner Review, Margie A.
5. Live Home 3D
Category: General-Purpose CAD Software
Live Home 3D is home design software that enables users to create 3D visualizations of floor plans, walls, rooms, and 2D designs. Its internal object library includes kitchen sets, sofas, tables, chairs, etc. Projects can be exported in JPEG, TIFF, PNG, BMP, and 360° panorama image formats.
What users like:
"The software makes it easy to create detailed visualizations with quick modification and editing capabilities. It is easy-to-use for first-time users, and its 3D visualizations are mind-blowing and intuitive."
– Live Home 3D Review, Tejesh R.
What users dislike:
"It doesn't allow for object addition within a room, and design progress is lost when quitting and re-opening the app. Premium level subscriptions are expensive."
– Live Home 3D Review, User in Alternative Medicine.
6. PlanningWiz Floor Planner
Category: Other Real Estate Software
Floor plan design service and solution, PlanningWiz Floor Planner, can be used for indoor and outdoor spaces. The tool is beneficial for planning blueprints of buildings and other infrastructures such as property development or recreational facilities.
What users like:
"I appreciate the ability to plan out rooms. Given that I work in property management, specifically short-term rentals, I can plan the room's layout accurately, furnish and decorate it accordingly, and share the visuals."
– Planning WIz Floor Planner Review, Lydia H.
What users dislike:
"The software is missing a premium look and feel, and depending on your version, your number of saved plans can be limited. Sharing options are also limited as image resolution is dependent on the type of account you have. Certain help features are also missing, and it takes a while to figure out how to use the tool, but overall, it is easy to use."
– PlanningWiz Floor Planner Review, JP A.
7. Rubens 3D Configurator by Roomle
Category: Augmented Reality Visualization Software
Rubens 3D Configurator enables manufacturers, retailers, and tech companies to deliver effective and seamless 3D and augmented reality (AR) product configuration experiences. With four levels of product visualizations and configuration functionalities, it allows easy digital sales for businesses.
What users like:
"The best part of the 3D configurator is its futuristic capabilities. It has all the advanced futures and no response delay."
– Rubens 3D Configurator Review, Nivethidhaa S.
What users dislike:
"More work to be done on the graphics. They are not up to the mark."
– Rubens 3D Configurator Review, Vipul P.
7. RoomSketcher
Category: Architecture Software
RoomSketcher is a practical floor plan and home design software solution. It's an app packed with features perfect for creating plans and 3D home visualizations for the real estate and interior design industries.
What users like:
"I love everything about it! There's a virtual tape measure to determine walkways between furniture and built-ins, labels for furniture on 2D floor plans, color/material adjustments for most objects, and the ability to preview the room 360 degrees. As a professional organizer, this tool has been invaluable for me when working with in-person and virtually clients."
– RoomSketcher Review, Claire E.
What users dislike:
"There is a learning curve to it. There are LOTS of features. In some cases, too many. It's sometimes tough to know what you are looking at, and I found the credits tough to understand. However, their customer service is awesome, and they answered all my questions in a timely fashion."
– RoomSketcher Review, Lisa S.
9. SketchUp by Trimble
Category: General-Purpose CAD Software
SketchUp is a 3D modeling and design tool that enhances workflows across industries for diverse models ranging from simple treehouses to more intricate building layouts. It's intuitive and powerful for architects, engineers, construction managers, woodworkers, interior designers, and film set designers.
What users like:
"It is much easier and faster to pick up than other 3D modeling software. After watching four or five videos, it took me just two days to model my desired structure. It has an abundance of learning materials that instantly help find your solution in a written or video format. Another plus point would be the entry price; the subscription system makes it very affordable to start using."
– SketchUp Review, Erdem B.
What users dislike:
"The only thing I don't love about SketchUp is that you have to send finished renderings to layout to label and dimension them. I would like to see an option to apply these items from a parallel projection within the program! I would also love the 3D warehouse to be better categorized. I feel like features are hidden everywhere, even in other languages."
– SketchUp Review, Courtney D.
10. SmartDraw
Category: Diagramming Software
SmartDraw, an enterprise-grade diagramming tool, has thousands of diagram templates for various target users. The software comes with capabilities such as adding shape data, diagram generations, document retention, and single-sign-on (SSO) security options. It can also be integrated with Google Workspace, MS Office, and Atlassian stack.
What users like:
"I only use the floor plan tool in SmartDraw, which makes design and space planning for my job very easy! They now have many templates to choose from and have recently added elevations. You won't find a more reasonably priced program for this out there."
– SmartDraw Review, Susan F.
What users dislike:
"The only thing I don't like is that each button you click pops up into a new tab, so eventually, you have several open tabs. It's not horrible, but it would be nice to be redirected to the actual place you want to get it with a click."
– SmartDraw Review, Cortney H.
11. Sweet Home 3D by GNU
Category: Other Design Software
Sweet Home 3D is an interior design application. It helps users draw house plans, visualize and arrange furniture, and view design changes in 3D. It's an open-source project distributed under the GNU General Public License and available in English and 28 other languages.
What users like:
"Sweet Home 3D is best for beginners and engineering and architectural students. The software is straightforward and has walkthroughs to help users understand the system and its features."
– Sweet Home 3D Review, Mani M.
What users dislike:
"I don't like the navigation system of the 3D viewing window. One should be able to move easily as a video game would normally, but the controls are limited and can be optimized much better. Video rendering quality is poor, as well."
– Sweet Home 3D Review, Adan R.
Strong foundations = strong end-products
Putting time and effort into visualizing spaces and models helps you make better design decisions and can save tons of resources in the long run. Remember that all design and architectural principles only become more efficient with the right technology. And if you think about it, don't forget to go over this list again.
Want to learn more about the design process and how you can better understand complex designs and systems? Here's a guide to 3D Modeling to fuel your creativity.