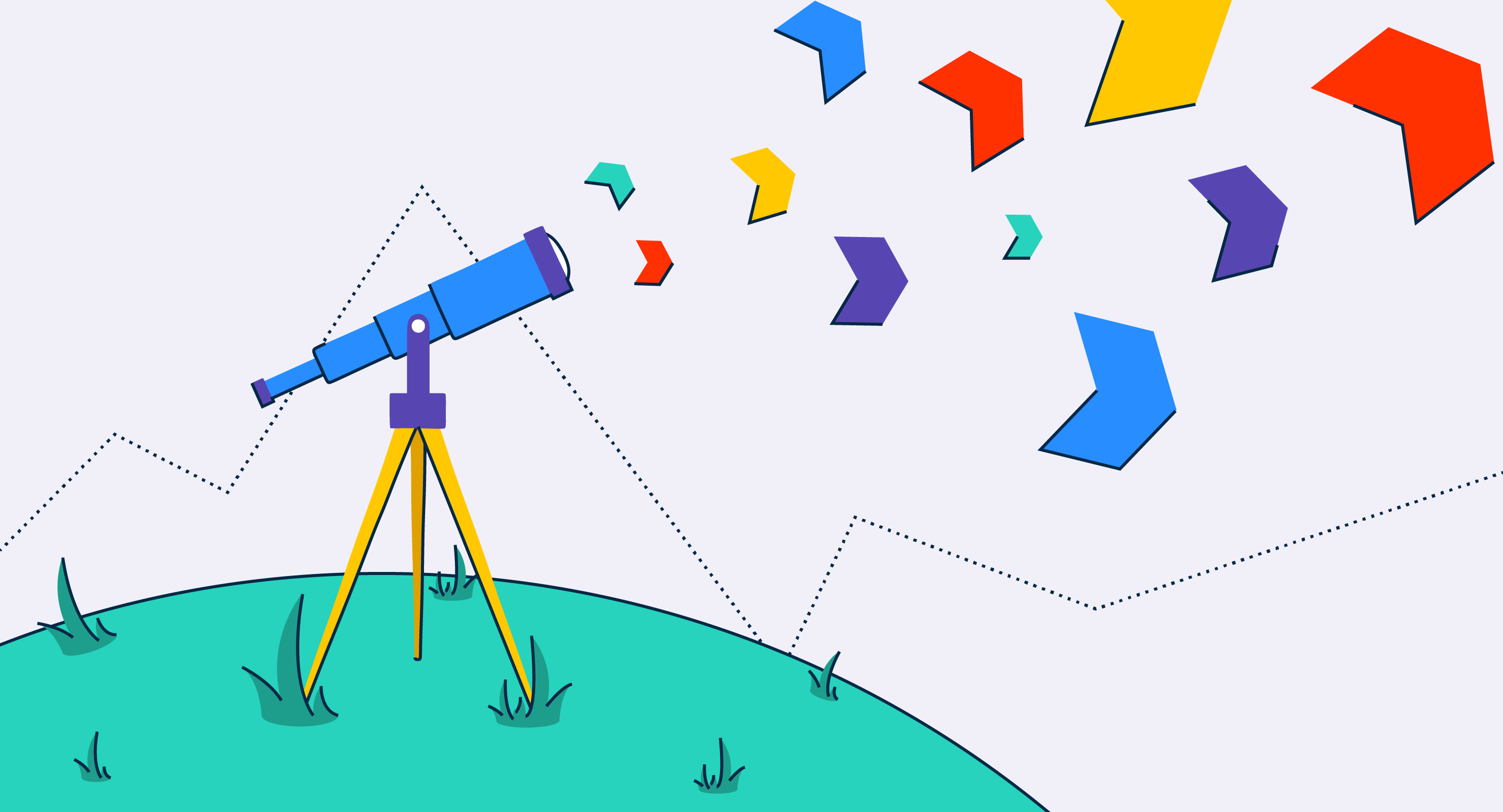 We've all seen the headlines. Record inflation, tumbling tech stocks, and fears of a looming economic recession. As a 20+ year, 5x SaaS entrepreneur, I've experienced my share of economic downturns, and I've learned a great deal about what it takes to adapt. Of course, times like these are difficult for business leaders and for their teams, but I can say with confidence that not only is it possible to survive them, but for a business to come out stronger too.
I graduated from MIT in 1994 during a recession which made it hard for even MIT grads to find jobs. Luckily, I landed a job in consulting. I then returned to business school at Stanford in the late 1990s in the midst of the dot-com boom in Silicon Valley. I, like many of my classmates, became eager to start building internet businesses from the ground up. And I did just that – first joining a software start-up Alyanza as one of the first 10 employees in 1998. We were quickly acquired by a bigger startup, Niku, which went public successfully in 2000, and I decided it would be the perfect time to start my own company. I co-founded BigMachines just in time for the dot-com boom to go bust. While we went on to sell the business successfully to Oracle in 2013 for over $400M, the path to success was far from smooth as we faced many what Ben Horowitz calls WFIO (we're f-d it's over) moments. I can share some tough lessons learned, but also the winning strategies I discovered while leading BigMachines through recessions.
We got off to a fast start and raised over $20M and hired 70 people during our first year. In retrospect, this was largely based on dot-com era hype as we did not yet have product market fit. By 2001, we faced a brutal market as the bubble burst and 9/11 happened – throwing tech and the broader economy into a massive recession. We were burning too much cash and went into survival mode, laying off close to 70% of employees just to survive. We really struggled to sign up new customers as the manufacturers who were our prospective customers were not ready to trust a cloud-based configure, price, quote (CPQ) solution, especially from a young internet startup they assumed would fail. Keep in mind that even Amazon was considered a credit and bankruptcy risk during that time.
Ultimately, we regained our footing and started to grow in 2004 by partnering with cloud customer relationship management (CRM) leaders Salesforce and Oracle (Siebel), who both needed a strong cloud CPQ partner for their larger customers. Partnering with these reputable brands was key for us, as they helped to validate our solution. At the same time, we became increasingly efficient in developing our product and serving our customers. By the time the next recession arrived with the 2007-2009 global financial crisis, we were well-positioned for growth. In fact, despite the economic conditions, we were able to keep growing 50% a year with positive cash flow. While the financial crisis was difficult for most of the economy, the momentum of cloud CRM and CPQ adoption continued, as we were able to prove customer ROI by making their sales processes more efficient. Thanks to this market momentum, our team's focus, and the great talent we were able to hire during a downturn at BigMachines, we still experienced impressive growth — and the company emerged stronger than ever.
Today, the digital economy seems to be facing its first real extended downturn since 2009, as we were fortunate to only experience a one-quarter downturn at the onset of the pandemic in early 2020. The uncertainty we're facing today has multiple causes: inflation, COVID, supply chain challenges, and the war in Ukraine. Each downtown is unique and we don't yet know how long and deep this one will be, but it's always best to prepare for downside financial planning scenarios to make sure you can weather the economic storm no matter how long it will last, as we're doing at G2. However, I've learned from experience to focus on more than just financial planning and operating measures.
A Strategic Framework for Leading Through a Downturn
The real question for SaaS CEOs and entrepreneurs is: how exactly do you adapt, remain resilient, and come out ahead? There are several stories and anecdotes I could share from what went wrong, what went right, and how that informed the way I navigate uncertainty in business today. But when I pause and think about it, I can boil down my suggested approach to these five steps:
Be authentic. The first step is to acknowledge fear and uncertainty. Openly share this new reality, develop a plan together with your leadership team, and communicate changes to your staff in real time. Be honest about what you know, and what you don't.
Adapt quickly. Don't wait. Adjust hiring and spend immediately and align on new scenario plans with your leadership team and board.
Get efficient. Deliver faster customer ROI through innovation and automation, use remote and global talent to be efficient, and continue developing up-and-coming talent for the long term. Oftentimes you can hire better people whom you might not have been previously able to afford during a downturn.
Don't panic. Keep focused on executing towards your long-term vision. Continue to live by your values and be kind during tough times. If layoffs become necessary, do whatever you can to support your former employees and help them find new roles.
Flucht Nach Vorn (translation: "Escape forward"). Meet with customers. Sell, market, seize new opportunities to demonstrate go-forward actions. Use the recession as an opportunity for growth, even when others in your industry may be fearful. Leading from the front shows your team you're going to lead them to a better future beyond the downturn.
Today, at G2, we're responding to market dynamics by refocusing on what we call "smart growth." We have slowed hiring to focus on critical roles and we're scrutinizing every dollar we spend to make sure it delivers maximum positive impact for our customers, our team, and our revenue growth. We've developed a new financial plan that maps to adjusted lower revenue growth goals, and are keeping a closer eye on expenses to return to positive cash flow sooner. At the same time, we're doubling down on efforts to help customers – including ensuring they can adopt our solutions quickly and effectively to deliver ROI. We're continuing to invest to build innovative new products that will fuel our long term growth, like G2 Track, to help businesses manage SaaS spend – and others to come that will help businesses discover the software tools and market intelligence they need.
Personally, I am living "flucht nach vorn" by doing a world tour to visit software buyers and sellers and our teams around the globe — many of whom we have not seen in person since before the pandemic. We just visited our partners and customers in Tokyo, where we're building ITreview.jp and soon we will be kicking off our second fiscal half with our U.S. team in Chicago and then going on to attend software industry events including SaaStr Annual and Dreamforce in San Francisco Bay area, then SaaStock in Dublin, and our own G2 Live event in Bangalore over the next couple of months. I'm so excited to bring our energy and passion for building the trusted place you go for software to our global communities!
If I know one thing for sure, it's that cycles like these don't last forever. I'm as bullish on the software industry as ever. But to position ourselves for success we need to play the long-game, and that means being prepared and willing to adapt. That's precisely what we've done and are continuing to do at G2. When the sun comes back out – and it will – we'll be ready to emerge even stronger.