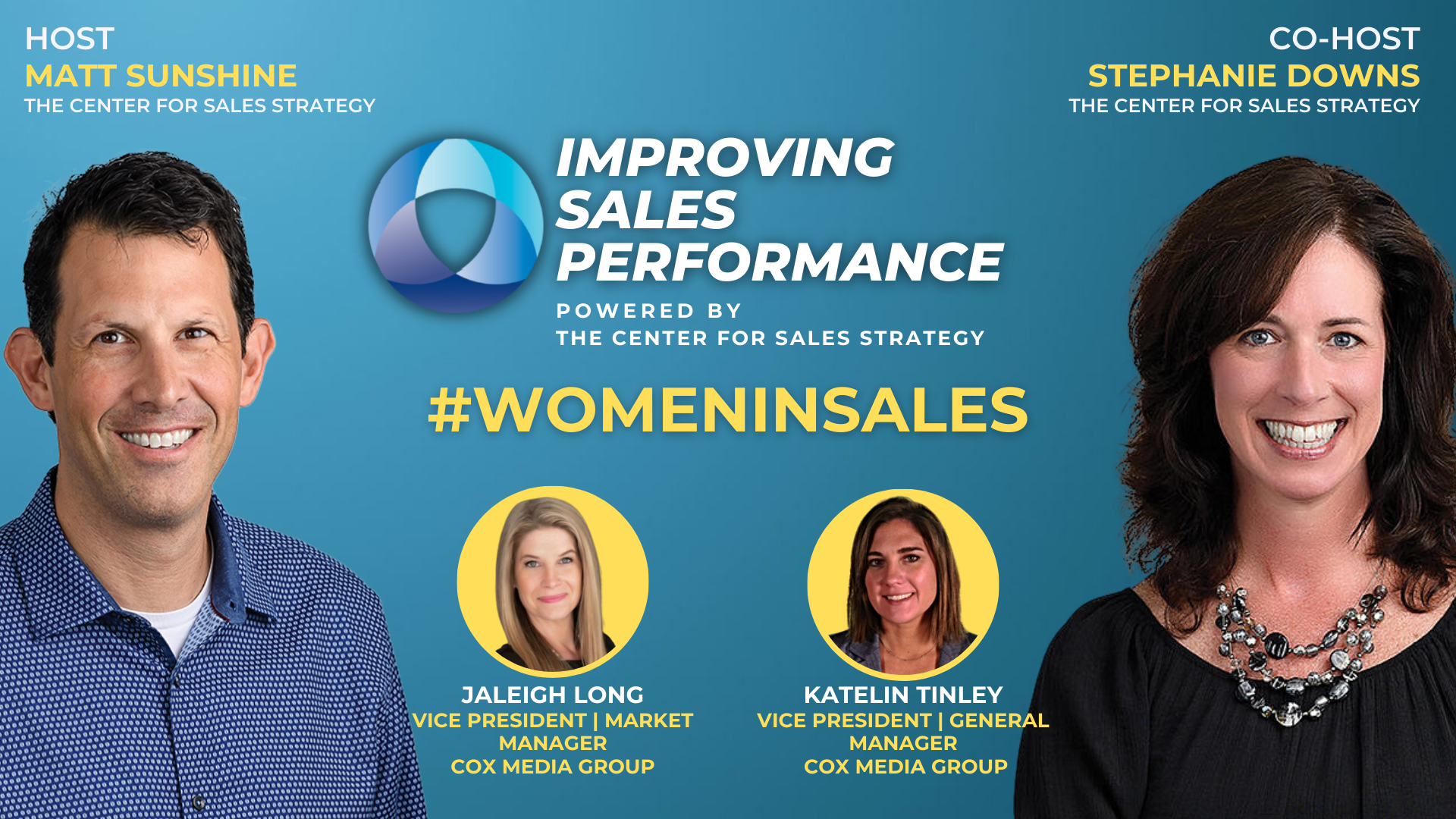 Wrapping up our Women in Sales Month episodes are Katelin Tinley, Vice President and General Manager at Cox Media Group, New York City, and Jaleigh Long, Vice President and market manager at Cox Media Group, Atlanta and Athens.
Together, Katelin and Jaleigh share a ton of essential observations, such as the significance of having an open and transparent relationship with your team, the power of going through the customer journey and knowing potential problems before the meeting, and the importance of being seen as a resource for your team and for your clients to help guide them through disruption.
Tune in now or keep reading for a brief overview.
Women in Sales – Katelin Tinley and Jaleigh Long
Katelin Tinley started her career with CMG in 2005 as an account executive for WBLI-FM. She spent a few years with ESPN-FM before returning to CMG Long Island in 2009 as a Local Sales Manager. In 2013, she was promoted to General Sales Manager.
Currently, Katelin is the Vice President and General Manager at Cox Media Group, Long Island, where she works with a team of highly talented professionals in cultivating a transparent, creative and inclusive culture where every employee is challenged and motivated to succeed at high levels. Their focus is to entertain, serve and build our local communities.
As Vice President and market manager at Cox Media Group, Atlanta and Athens, Jaleigh Long leads all station departments, including programming, promotions, sales, digital, engineering, production and community affairs, by continually upholding the core values of CMG; maintaining an engaging, diverse and inclusive work environment while achieving optimum cluster performance, revenue, ratings, and profitability.
An 18-year industry veteran with an in-depth knowledge of both radio and digital, Jaleigh joined CMG Atlanta Radio in 2014 as General Sales Manager (GSM) before being promoted to Director of Sales in 2017. Previously, she was with South Central Media in Evansville, IN, for seven years as GSM. A graduate of the University of Southern Indiana, she started her media career in Indianapolis as an Account Executive for Susquehanna Radio.
Performance Metrics and Leading Indicators for Sales Departments
Co-host Stephanie Downs asks both guests what three to five performance metrics or leading indicators they look at across sales departments to know they're on track.
Jaleigh begins by saying, " I would say there's a couple of different things right away, and I think that is the culture overall, making sure that you have a winning team and a team that is overall happy with what they're doing and why they're doing it and who they're working with."
She continues, "I would also say activity, making sure that the team feels like they've got the support from the resources and the leaders and making sure that you've got a great team around your top performers and that activity is on track."
She also mentions looking at relationships. "Are they investing enough time in those important customer relationships, and what do they need to go deeper into those relationships? You can get so much from whether it's a phone call or an in-person meeting, an email or a text, or Zoom call, whatever it might be."
Digging in on what a relationship is like:
Why does someone need your help?

Why are they coming to you?

Why are they choosing to work with you?

Is it because of what you have with your product and solutions?

Or is it because of the way you can solve a problem and maybe your credibility and how you've worked with them in the past?
Stephanie mentions how this makes her think about soft measures and hard measures that we have in our organizations. "Thinking about the relationship piece, that's a soft measure, but we know there can be a hard measure outcome when we have that relationship, and that trusted and valued partnership, and we're delivering results for clients."
Katelin says she also looks at total revenue, "But underneath that, I look at new business and make sure that we're controlling what we control and bringing in that new business. I also look at revenue share in the market for opportunities there and then activities."
"What are the quality meetings that we're going on? What are the quality pitches? And making sure that those are up to standards."
Tune in now to hear the answers to the follow-up question, "How do you track culture? What are some things that you do to ensure that is happening?"
High Priorities for Sales Leaders Today
When asked what Big Rocks sales managers should focus on today, Jaleigh states, "It's gotta be agility. And I think we have to understand and know where we can come in and help along the way. We have sales team members that have a different variety of backgrounds, which is great for the business. It's an exciting time for the business!"
"Experience levels are very, very different too," he continues. "So we've got to be able to pivot and adjust our style to the person that we're working with as sales managers today. Not everybody grew up in radio like we did, and taking for granted some of those kinds of ways that we used to do things. It just doesn't work, and it shouldn't. It's a different day, and we've got to be more agile to working with our teams."
Katelin adds, "We used to talk about quality meetings and making sure that we have the right quality meetings. And I think Covid changed things, where things came up last minute. So now we talk a lot about prepared quality meetings. We have so many resources and access to data that we need to be assets to our clients, never wasting their time."
How the Role of a Sales Leader Has Changed
Katelin answers this question by stating, "Post Covid, we're more virtual, and I think that path to getting back to in-person is longer than we thought it was going to be."
The role of a sales leader has changed just by it's adjusting to that. "And, people have less time. We're expecting more out of everyone. When you're in that virtual space, you need to come prepared with your information and with your data and not waste their time."
"There are also more products, greater competitions, and more distractions. So how do you keep yourself focused on those priorities with so many more distractions and so many more products and focusing on solving clients' problems?"
Jaleigh adds, "I think recruitment is harder than ever before. And whether that is for an individual contributor as a media consultant or an account manager or support staff. I also think when you think about the director of sales level and you're hiring new sales managers or more people for your sales department; recruitment has definitely changed. So being intentional, it's kind of kinda back to prospecting when you think about it."
"I think that our greatest responsibility as leaders is to tap people on the shoulders to discover their talents, to understand who will make a great leader for your team and for the future and for the business. And diversity is key there. That is what makes this such a thriving industry as well. Whether it's the communities you serve or the customers that you have, or the ones that you're trying to attain. And that is the greatest responsibility for leaders – to go out and define future leaders."
For more advice and insights on hiring a new sales leader and where the industry will go in three to five years, tune in now!