When it comes to marketing, many day-to-day efforts are improved by working smarter, not harder.
In the past, trying to understand and track which contacts were looking for your brand required a hefty investment of time and manual effort. Many companies still ignore this trigger altogether, waiting for contacts to express interest to begin qualifying leads and sending targeted messaging.
Today, G2 Buyer Intent can be combined with HubSpot's robust CRM using the G2 Buyer Intent Integration with HubSpot for a powerful marketing resource. G2 offers a suite of products that help business professionals make better technology decisions, and is a source of software research and information with 1.7M+ individual product reviews.
G2 Buyer Intent data uncovers accounts researching your business's solutions, so you can market smarter and win more deals – it's like you're going right to the source to answer questions directly. These leads are as "hot" as they could possibly get.
By taking advantage of cues from customers who are researching your category, your brand, and your competitors, you can target more effectively and improve conversion rates.
In combination with HubSpot, this data becomes even more valuable. Seamlessly integrate buyer intent information with existing customer contacts, workflows, and marketing automation to take marketing and sales to the next level.
Using the integration, HubSpot will also receive any actions G2 registered from the contact, triggering updates to contact activity, contact and company insights, and company properties.
Benefits of combining buyer intent signals within the HubSpot CRM
Thanks to HubSpot's ability to manage customer journeys at scale, the G2 integration provides another layer of data for marketers to act on. Notably, these benefits apply to every stage of the buyer's journey, so you can bolster your strategies to attract, convert, close, and retain customers all at once.
Here are just a few of the key benefits that apply to businesses of every size in every industry.
Target high-value accounts at scale
G2's Buyer Intent data will indicate when contacts are showing interest in your brand or industry. Using this same information in HubSpot, you can identify and target high-value accounts at the moment they're most primed to commit.
By prioritizing high-intent buyers by their account value (and prioritizing high account values by buyer intent), you'll ensure that your efforts are always focused on the highest-potential outcomes.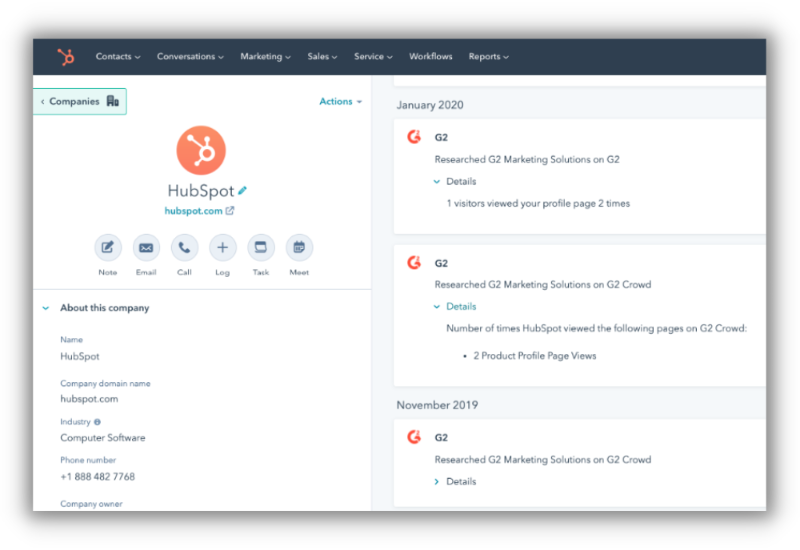 Automate and streamline workflows
G2 Buyer Intent data is ported directly into HubSpot, which allows marketers to automate and streamline workflows between the two partners. There's no need for third-party workarounds or manual data transfer from one dashboard to another.
Instead, find your G2 Buyer Intent data integrated into the tools and views you already know and use, and use your time to connect with prospects and build meaningful relationships rather than hunt down information.
Drive pipeline and retention
In addition to highlighting contacts who are showing interest in your own brand, G2 also allows for tracking accounts that have shown interest in a competitor. Move customers more efficiently through your pipeline when they show interest in your brand, and conduct proactive outreach for those researching competitors.
By keeping tabs on which active clients are still in the market for another solution, marketers can stay ahead of customer dissatisfaction and boost retention.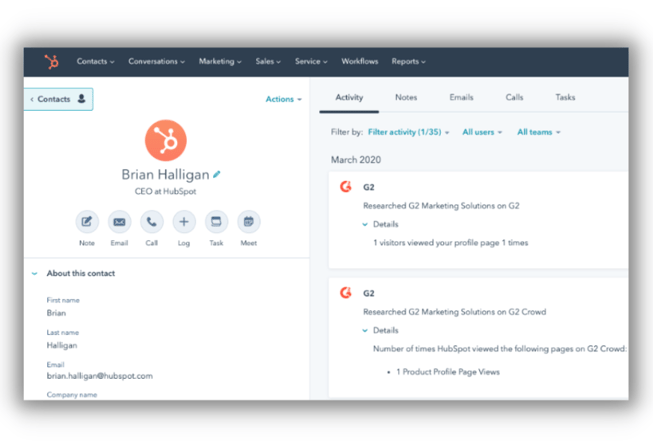 3 ways to leverage G2 and HubSpot for more effective inbound marketing
For subscription management platform Chargebee, the G2 HubSpot integration proved invaluable for capturing missed opportunities and generating leads. Using G2 with HubSpot enabled Chargebee to capture almost half (45%) of inbound leads every month.
Here are a few ways to use G2 Buyer Intent data with the HubSpot CRM to boost conversion rates and brand awareness.
1. Enhance lead scoring
G2's Buyer Intent data is updated daily, then automatically transferred into the HubSpot contact record giving you the most up-to-date look at a contact's status, and factoring into their lead score. The more a contact has looked into your company or industry, the higher they'll score.
The integration allows marketers and salespeople to take a more data-driven approach to their outreach, adding a helpful qualifier to indicate accounts that are more likely to convert and who are ready for a more in-depth conversation.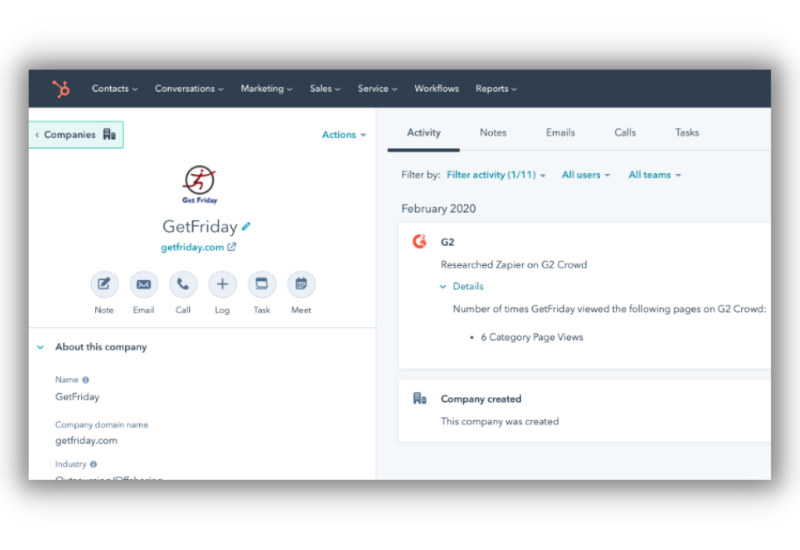 2. Identify in-market accounts
The integration allows marketers to identify accounts that are actively in-market for their product or service. Thanks to G2 surfacing contacts or accounts that are actively searching for your company, competitors, or overarching category, you can create segmented lists based on intent, then target specific lists with niche campaigns.
Chargebee used this information to create a robust automated follow-up strategy, retargeting accounts in real time across both Facebook and Google. The aim was to stay top-of-mind with prospects who were actively considering their options.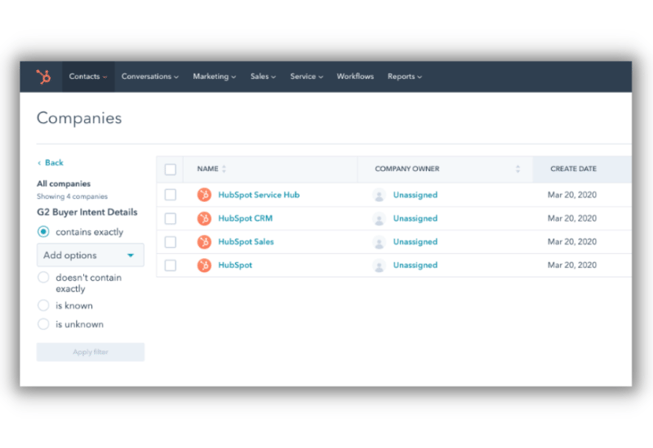 3. Maintain competitive targeting and positioning
G2 Buyer Intent data offers a competitive edge in the market. By knowing exactly which accounts are comparing you to other competitors in your category, you can implement more targeted, relevant messaging at the moment it's needed most.
For Chargebee, this focus on standing out among competitors proved to be the most transformative. While Chargebee was satisfied with its ability to delight current customers, the team knew that they were losing out on potential buyers who were easily swayed by larger, more well-known competitors.
Using the G2 integration with HubSpot, the company reworked its messaging and collateral to focus on its selling points against competitors. By focusing on its key differentiator – the ability to be up and running more quickly than competitors – Chargebee accomplished 3X YoY growth in deals from its competitor campaigns, and 4X YoY growth in leads from Europe-based competitor campaigns.
Attract, convert, close, and retain B2B customers
To take advantage of these incredible features and empower your business to improve marketing outcomes, explore the G2 integration with HubSpot, available to all G2 Buyer Intent customers who also use HubSpot, or HubSpot users who are interested in using G2 Buyer Intent Pro, Power, or Power+.
Give your marketing and sales teams access to real-time signals designed to fill your pipeline and close deals. Get started with the G2 x HubSpot integration today.