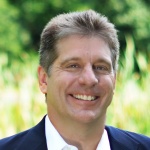 With a grateful nod to Heinz Marketing, Lifehacker, Inc. Magazine and others who regularly publish "This is How I Work" articles, which I love to read …. welcome to "How I Work It – Social Selling".
I try to watch and emulate others and you probably do the same. There is a lot of confusion, particularly with B2B, regarding how to implement social selling. Our hope is that these folks will inspire those of you are still on the fence and our goal is to share with you some of the best proven selling practices that you might wish to emulate!
Today we are joined by Tom Pick of Webbiquity. Tom takes the mystery out of social selling by consistently demonstrating key elements including …
Authenticity
Personalization
Uniqueness
A desire to share, educate, and to promote others
Welcome, Tom!
Could you please tell our readers a little about you?
Personally, grew up in central Minnesota, happily married, dad to two amazing adult children.
Professionally – started my career running an engineering documentation group, which I like to say is exactly as exciting as it sounds. Realized I didn't want to do that forever, so I went back to school, got my MBA from the University of Minnesota Carlson School, spent 14 years in corporate marketing, 10 years with a small B2B-focused agency, then started my own consultancy in 2017.
How about telling them a little bit about your business?
My company, Webbiquity LLC, provides digital marketing services to help small to midsized B2B tech and professional services companies grow their brands and generate more leads. Our core services cover five areas: SEO, online advertising, social media marketing, content marketing, and influencer marketing.
How did you get started in selling and when did you begin adding social selling to your business?
Like anyone who starts a business, I started selling because I wanted to eat. I wasn't terribly good at it at first, but it's amazing how quickly one can learn things when there is no other choice. I had done quite a bit of social media marketing work when I was in the agency world, so I incorporated social media into my business development from the start. After three months of immersion learning and trial and error, my business became sustaining.
What are your social selling goals, objectives, and strategies?
Ultimately, it's about keeping my team busy. But it starts with trying to find people I can help in some way, in order to build my network. Nine times out of ten, that help ends up being sharing knowledge, making an introduction, or helping with exposure. But if one out of ten becomes a solid business prospect, or better yet a client, the process is working well.
Do you have regular routines?
I try, but the structure ends up being more like it's built out of hard rubber than steel; it's flexible. One of my biggest challenges is keeping business development activities going when the business is operating at near maximum capacity. I think of it as a nuclear power plant: you can ramp up or ramp down the output, but you can't shut it down. One cadence I try to maintain is attending at least one conference or networking event monthly; that slipped during COVID, but those live events are coming back.
How do you integrate social selling with traditional selling methodologies?
Because I never really sold directly before starting my own business, I really don't think of the activities separately. Events, social media activity (primarily Twitter and LinkedIn), calls, coffee, Zoom meetings…they're all part of the process.
How do you manage to stand out from the noise?
There's a lot to be said for persistence. Something like 95% of all blogs are abandoned. I started my first marketing blog in 2005, then sold it in 2010 and started the Webbiquity blog. I don't think I've gone a week without posting in 12 years. I think that says something to people: I'm not a quitter (or maybe I'm just crazy, but…hopefully the not-a-quitter thing). I never stop writing, trying to grow my social media following, or trying to grow my network. And I have clients who've been with me since the start, because I never stop trying to think of new ways to help them.
Could you please share with us a few of your favorite social selling tools?
It's probably not what you're looking for, but my primary tools are simply LinkedIn, ContactOut, and Excel. And maybe Twitter. Okay, and Tweetdeck. And email, lots of email. So, Mailchimp. I don't use a super-sophisticated tech stack. But I have reviewed some very interesting online tools for sales pros.
How do you track your results?
I look at a lot of analytical metrics: website traffic from social media, follower growth, engagement on LinkedIn and Twitter. Operationally, it's how my 90-day forecast looks (do I have enough clients, are they happy, am I bringing them new ideas?). 90% of my new clients are referrals from existing clients, so client satisfaction and results are extremely important to me. I obsess over that.
What do you feel are the biggest challenges facing salespeople as it pertains to social selling?
Making the shift to doing more work up front, so the process is easier in the end stages. I used to help teach Solution Selling at an ERP software company. The classic "discovery questions" don't work as well any more; prospects expect sales people to know a lot of that information before the first conversation. Today's B2B buyers are impressed by sales people who have done their homework, but turned off by those who haven't.
What about their biggest mistake that salespeople make when trying to implement social selling?
Connecting on LinkedIn just to jump right into a sales pitch. Sure, you may get lucky and make that connection at just the right time every once in a while, but the vast majority of people are turned off by this. You've burned a bridge and damaged your brand. Start by helping. Earn the right to pitch.
What is your "social selling superpower"?
I do not claim to have any superpower. But I aspire to have the superpower of "asking great questions." When a prospect, someone I'm interviewing, or just someone I'm talking to at a networking event says, "that's a really interesting question"—I know my efforts at developing this skill are paying off.
How can our readers get in touch with you to learn more?
I'm active on LinkedIn and Twitter, YouTube, and all of my contact information is on the about page of my blog—the easiest shortcut to get redirected there is just to go to my website.
Please nominate somebody to answer these same questions! I'd like to hear how Josh Fedie works it!