This is no time to let off the gas.
Your auto dealership might be one of the best and most respected in the region, but your reputation might not be enough. Your automotive marketing strategy has to attract new customers constantly.
However, sourcing car buyers isn't as simple as it once was.
From understanding the nuances of digital channels to choosing the right automotive marketing software, there's a lot to learn. Let's examine 11 different marketing ideas that will drive more new and used car sales right to your door.
What is automotive marketing?
Automotive marketing is the practice of using different strategies and tactics to attract and persuade potential car buyers. Automotive dealerships benefit most from this type of marketing, but automakers also use it to promote their vehicles.
Automotive marketing utilizes a combination of traditional and digital techniques and aims to engage two different customers:
In-market: Buyers who plan to purchase a vehicle in the next three months
Prospective: Buyers who are more than three to six months out from purchasing
Why automotive marketing matters
The retail world has become a digital world. But this isn't surprising.
During the height of the pandemic, businesses had to adapt to an environment that prevented in-person shopping. Auto dealers were no different.
At one time early on in the pandemic, two out of three car buyers were more likely to purchase entirely online, according to a 2020 study by Cox Automotive. In that same study, franchise and independent dealers considered digital savviness as the most desirable skill for hiring new employees.
The shift to digital was already happening across retail. Social distancing just expedited that shift a bit more.
Meeting customers in both the physical and digital world has become the standard for car dealers. Many automotive businesses must explore new ways to adapt their automotive marketing strategy to attract potential customers.
11 automotive marketing strategies
There are tactics you should experiment with to draw in more customers. Let's dive right into some winning strategies to get you selling more vehicles.
Embrace the power of customer reviews
Just browse Google or Amazon, and you'll notice how reviews have become a core aspect of the internet.
Consider that the web has put so much information at our fingertips that it's become far too easy to become overwhelmed with choice. Consumers need a reliable way to judge whether certain brands or products are worth their hard-earned money.
For dealerships, customer reviews are just as crucial to their businesses' success as any other retailer. Here are a few key areas you should consider to maximize the value of customer reviews:
Building trust and authority: More customers begin their sales journeys online than ever before. This means they're probably going to research car models and dealers for their purchase. If this is a customer's first touchpoint with your brand, then you want it to be positive.
Perfect review scores are less trustworthy: Let's say you have a perfect five-star rating on Google or Cars.com. Believe it or not,

many customers are hesitant

about perfect review scores they read online. One way to combat this is to collect a lot of reviews so that your score doesn't lean too far in either direction.
Multiple platforms need extra effort: Unlike ecommerce brands that house online reviews on their site, car dealerships often have to manage reviews across multiple platforms. Some of the most common include Google and Facebook, but customers might leave reviews on other sites, like

DealerRater

and the

Better Business Bureau

. If you don't give equal attention to every site, it may burn you later.
Bad reviews can lead to positive outcomes

:

Negative reviews

don't have to be the end of the world because they can provide valuable insight. They present a chance to improve the overall experience, identify necessary messaging changes, and offer opportunities to acknowledge dissatisfied customers to improve brand trust.
Tl;dr — Reviews are critical. Your most loyal customers are your biggest advocates and some of your best salespeople. So if it's been a while since you thought about your review collection strategy, here are a few tips you should consider:
Collect as many reviews as you can.
Make it easy for customers to leave a review.
Always reply to negative reviews.
Aim to provide consistent attention to multiple review sites.
Learn from both good and bad reviews.
Prioritize data as your guiding star
Now that we've checked under the hood of customer reviews, remember that they're a data set, essential to the success of powerful automotive marketing strategies.
Just as you trust data to make financial decisions, the same is true when it comes to your marketing campaigns. To get started, think about what things that matter most to attract new customers, such as:
Website traffic
Local demographic and census data
Conversion rates
Historical campaign spending
The beauty of digital marketing tactics is that there's a ton of data to show what works and what doesn't. Consulting data on a regular basis to inform these decisions is extremely important for any marketing strategy.
Pro tip: Look into solutions that can consolidate data into a single "source of truth" for analyzing performance or putting that data to work. For example, seek out a customer relationship management (CRM) software explicitly designed to house data from website form fills, emails, and other channel communications.
Create buyer personas
Let's suppose you're stuck in the wilderness and have fishing skills. Sure, you could toss a spear into a school of fish, hoping you'll hit something. But wouldn't it be better to bait a hook and cast your line at the right moment?
That's what you can achieve with buyer personas, a marketing technique that some of the biggest brands on the planet use. It's a method you apply to create fictional personas that represent real-life prospective and current customers.
Buyer personas help you approach your automotive dealership marketing strategies with surgical precision. A buyer persona's purpose is to document your ideal customer's wants, needs, and common behavior.
Here's a hypothetical buyer persona for a dealership that wants to move more crossover SUVs this year:
Name: Mei
Age: 31
Annual Salary: $75,000
Profession: Filmographer
Family Life: Fiancé
Favorite Hobbies: Hiking, Camping, Travel
It might seem strange to create a fictional character and define so much about them. There's a lot to be said about this example.
We know that Mei's income is in range to afford the newest SUV model and that it would be perfect for long road trips. Additionally, she likely needs a vehicle with decent off-road and towing capabilities based on her hobbies.
It's more than likely that automakers heavily rely on buyer personas when designing new or iterating on existing vehicle models. And while customers won't always fit into the perfect structure of a particular persona, we can use them to inform which marketing channels make sense to target.
In this example, Mei's age and profession suggest that she regularly uses social media sites like Instagram or TikTok. This is just one specific instance where a buyer persona can help decide which social platforms to invest in for advertising purposes.
Pro tip: Try to create multiple personas! Ideally, have a buyer persona to represent the perfect customer for each model available on your lot or sales floor. Aim to be as specific as possible with target audience information like age, profession, or salary. The more detail, the better!
Audit your website experience
Think about the biggest tech companies and what their websites look like. You're probably thinking of the big four – Google, Apple, Amazon, and Facebook.
User experience (UX) is a big reason these tech companies are so successful. They constantly improve their sites to increase user engagement, time on site, and chances of conversion.
There's a good chance you've visited a shoddy website. Neverending pop-ups. Full-volume autoplay ads. Desperate pleas to join mailing lists. A bad website experience can turn off users faster than you can say "close tab."
But optimizing your dealership website for good UX isn't a simple task. UX designers and researchers dedicate their careers to creating more universally accessible and positive experiences for everybody online.
If you have the resources to hire a UX designer, go for it! However, this might not make sense for everybody. Here are some questions to help audit your website and address any glaring issues that impede an ideal experience:
Are there consistent issues with inventory management? One of the most frustrating things about shopping online is seeing products that are out of stock. If someone on your site finds the new or used car of their dreams but discovers it's unavailable, their disappointment is justified.
Can users easily and intuitively find your contact information? Unless your site facilitates the entire car purchase, you want visitors to visit the dealership in person. Whether they want to contact a salesperson about pricing or schedule a test drive, don't make them have to hunt down your number or email address.
Are there any accessibility issues? Your site's design should aim to be accessible to as many people as possible. Try to accommodate visually-impaired people with changes to font text styling and color choices.
Any annoying design choices? This is a bit more subjective, but think hard about certain aspects of your site that might be obnoxious to the average user. For example, you may have a cookie opt-in plugin that displays for all new visitors. While it's good to be data-compliant, it's not a great experience if visitors have to click through multiple menus when the overlay consumes the entire screen. Pop-ups and chat windows fall into this category, but

the jury is still out

on whether it's better to do away with them altogether.
Pro tip: Sit down with someone that isn't a current dealership employee and ask them to navigate to specific parts of your site. Ask them how difficult it was and how long it took them to complete the challenge. You may also want to consider heatmapping or conversion rate testing tools.
Optimize your site for search engines
Google has become an integral part of how we interact with the internet. There's a good chance that you found this article through Google or maybe a different search engine (lol, no.)
Today's customer often turns to search engines first to research products and services. Specifically, 40% of shoppers worldwide start their buying journey on Google when researching a potential purchase. Search engines drive tons of traffic to millions of websites every day. It's become an increasingly vital channel for all marketers.
With a dominating 92.48% global market share, Google is the only search engine worth caring about. Let's focus on two important aspects of the search engine results page (SERP): organic search results and local results.
Organic search
A typical SERP in Google has the following structure:
Ads
Rich media (images & videos)
Featured snippets and People Also Ask questions
Organic results
Google's SERPs favor the placement of ads at the top of the page, but many users scroll down the page to see the organic results. This is where you want your business to show up when customers use keywords related to your dealership.
But – and this might come as a shock – the internet has a lot of content. To confidently recommend your site for specific keywords, Google and other search engines need to understand what your site is all about. In extremely broad strokes, here's how Google assesses your site for SERPs:
Google "crawls" every page to get a sense of what topics and interests your site focuses on.
Google evaluates offsite signals to judge how trustworthy or authoritative your site is relative to those topics.
To give Google a good reason to recommend your site, you have to engage in several tactics that fall under the practice of search engine optimization (SEO). Some marketers and marketing agencies specialize in SEO since it's a constantly evolving approach.
Prioritizing your ideal user is the best approach in Google's eyes. Make sure your site's content marketing is helpful and informative, and that you're trying to give your customers a great experience during their visit.
SEO can be pretty complicated to get right, but tons of free resources are just a few searches away. Investing in SEO is a long-term strategy and it may make sense to partner with SEO professionals if you're struggling to get results.
Local SEO
Businesses serving specific areas and regions also need to care about search engines. Local SEO is crucial for these companies because users have come to rely on search engines to provide quick suggestions for nearby businesses.
If you search for "best used car dealerships near me," you'll probably notice a feature in the SERP that looks like this: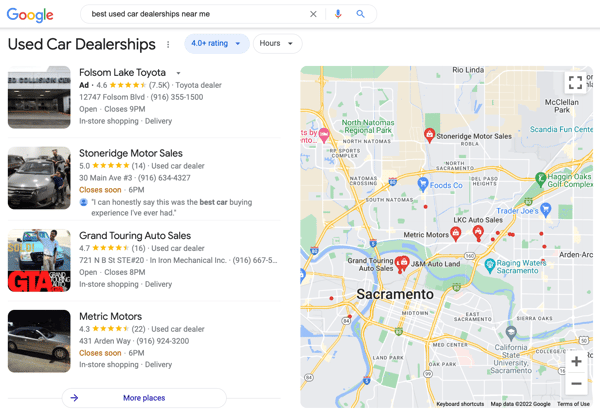 Source: Google Search Results
The above is what Google refers to as the "Local Pack." When a user performs a local search, the results page triggers a grouping of several businesses Google thinks are most relevant to that search.
The good news is that you can manage your business listing yourself, but you have to do so within Google's ecosystem. Consider these three points to get the most out of your local business listing on Google:
Claim your Google business listing. Many businesses don't realize that unless they

claim and manage their listing on Google

, the search engine tries to populate the listing with data it pulls from the web.
Regularly update your listing. Include as much information about your business as possible. This means regularly updating your hours, especially if they change on major holidays. Also, don't forget to acknowledge and reply to negative reviews promptly.
Explore advertising in the local pack. Google has a comprehensive ad platform, and the local pack is no exception. If you want your dealership to sit at the top of the local pack for user searches, this is one way to do that.
Experiment with Google Ads
The Google Ads platform is a robust option for spending your ad dollars. Your goal is to craft strong car dealership marketing strategies, and advertising is still a powerful tool at your disposal. (If you need a refresher, read up on the differences between marketing vs. advertising.)
Google Paid Search
Google offers quite a bit for automotive marketers targeting search users. Paid search advertising allows brands to bid on keywords and phrases and serve ads at the top of the SERP to attract customers. Here are some ways you can maximize the value of pay-per-click (PPC) advertising:
Get familiar with keyword target types. Google uses different methods for bidding on keywords in paid search. Familiarize yourself with how they can impact your spending and the kinds of users they target.
Bid on competitor terms. Under the right conditions, you can target competitor brand terms and win over customers. While you can't explicitly mention or bad-mouth them in your ad copy, you can absolutely serve ads to users searching for your competitors.
Actively manage your keyword lists. Your keyword selection makes or breaks your paid search campaigns. And just as important as it is to bid on the right keywords, you also need to maintain a list of keywords you don't want to target. The last thing you want is paying for ads that get served to people who aren't likely to buy a car from your dealership.
Other offerings within Google Ads
Outside of paid search, you should consider other areas within Google Ads if you're trying to test different car sales marketing ideas. Let's look at the areas to focus on to get more car buyers to walk through your doors.
Display campaigns: A long-time staple of digital marketing, Google's display network allows you to target online publishers and websites with banner ads based on your audiences.
YouTube: Automakers and dealerships rely on YouTube as a go-to channel for video advertising.
Shopping campaigns: Many car manufacturers and dealers use Google Shopping campaigns to promote specific car models. The idea is to get a search user to call or schedule an appointment for a test drive.
Use remarketing for a second chance
For visitors that come to your site but don't engage or drop from your dealership's sales funnel, remarketing is a reliable tool for a second chance.
Odds are that you've seen remarketing ads in the wild. You visit a site to research a purchase, and then you're seemingly followed by ads for that product for days – sometimes weeks or months.
The future of remarketing is uncertain as many consumers are growing weary of them. Despite this, you can use a few tips to make remarketing ads effective without pushing customers away:
Be cautious about frequency. No one likes to be hounded by constant ads for the same product over and over. When creating your remarketing campaigns, test spacing out your ads in a way that keeps you in the front of their mind without annoying them.
Trust in your buyer personas. Calling back to an automotive marketing strategy from earlier, creating buyer personas can help guide how to segment your remarketing campaigns. This will ensure that you're grouping your efforts intelligently and making your ads feel more relevant.
Explore other paid media channels
By no means is Google the only game in town for advertising online. You should always make sure that social media is a part of the discussion when thinking about your automotive marketing.
Social media platforms rise and fall in terms of their users. What was true about Facebook in 2010 does not apply today. It's key to stay up-to-date with how each platform evolves and broader changes with social media marketing for automotive dealerships.
If you want to target 25-year-old college grads to buy a used car from your lot, you probably have a better chance of reaching them on Instagram. This is because Instagram is likely a considerably better fit for these car buyers since older generations more often favor Facebook.
Also, don't count out emerging platforms. TikTok continues to see tremendous growth across all demographics, so it may be worth testing a few campaigns in the early stages of its popularity.
When thinking about who you want to target, this should ultimately help you decide whether one platform makes more sense than another.
Research automotive email marketing and automation tools
All of the automotive marketing strategies we've talked about so far require active management. But there's a whole world of tools and technology worth exploring that can automate a ton for your automotive sales team.
One of the benefits of modern automotive marketing solutions is that some tools are built specifically for automating tasks. The most natural and broad application includes automotive email marketing.
Despite it being around since the early days of the internet, email marketing is still an incredibly effective marketing tool for car dealerships. Here are just a few mind-boggling stats to mull over:
99% of users open their email daily, some of them checking their inboxes as many as 20 times a day. (

OptinMonster

, 2020)
64% of millennials and 60% of Gen Z consider email to be the most personal channel. (

Bluecore

, 2021)
4 out of 5 marketers would rather dump social media than give up email. (

Litmus

, 2020)
Once a customer enters your funnel, there are many marketing options to choose from.
For starters, you may want to consider entering them into a series of automated emails sent over a set timeframe. This is what's known as a "drip" campaign. Using templates inside of some automotive marketing tools with prepopulated content, you can demonstrate what makes your dealership unique and give leads compelling reasons to buy.
Leverage text message marketing
As reliable as email can be for auto dealers, text marketing – otherwise known as SMS – has shown to be an equally effective marketing channel.
It's easy to compare email to SMS marketing because the two channels function similarly. Both are universal digital communication methods that users turn to daily. It's hard to say no to a channel that boasts an average 98% unique open rate.
Pro tip: Consider approaching SMS marketing the same way you would with email. Try to segment your customer lists as best you can and craft your messaging to match those segments by favoring relevance. Additionally, be cautious about messaging frequency to avoid leaving a bad impression on your prospects.
Give buyers a reason to visit
While automotive digital marketing offers endless opportunities to attract your ideal customers, most dealerships still need them to visit the showroom in person. All previous tactics and automotive marketing strategies are designed to find your buyers with laser focus, but getting them to visit is the next hurdle to overcome.
Seasonal sales events – à la "Ford Truck Month" – are always a new or used car dealer's go-to for motivating customers to swing by. But outside of these times, you need to get a bit more creative. Here are two offers that might inspire you to come up with some of your own.
Trade-ins get a year of unlimited car washes: Some of your repeat customers exhibit certain patterns that you can use to come up with some great incentives. If you have buyers who like to trade up to the latest model every two years, throw in unlimited car washes to keep their vehicle new and fresh – until trade-in time, of course.
Gas gift cards just to test drive: If you cover large service areas and have many customers driving long distances, consider a $25-$50 gift card they can use at the pump. Everyone could always use some extra gas money, giving your salespeople a chance to make a personal connection and memorable customer experience.
5 best automotive marketing software
Because the retail landscape has become so much more complicated for auto dealers, you need the right tools to reel in prospective customers.
To qualify in this category, a software product needs to:
Provide a way to market a dealership's business and inventory
Offer features specific to automotive companies
Manage and design websites, post pictures, and capture leads for dealers
*Below are the top five leading automotive marketing software solutions from G2's Summer 2022 Grid® Report. Some reviews may be edited for clarity.
1. Dealer.com
Dealer.com is a premier digital marketing solution recognized as an automotive industry leader. Backed by unrivaled consumer behavior data and Cox Automotive's significant expertise, it's a robust platform that empowers automotive companies, dealer groups, and original equipment manufacturers (OEMs) to forge a path toward greater customer engagement.
What users like:
"Since Dealer.com is a part of Cox Automotive, they have the best staffing behind them. They are fully and seamlessly integrated with all of our other Cox products and give us what we need."
– Dealer.com Review, Michaela H.
What users dislike:
"The included website layouts are a little cookie-cutter. We would enjoy a little more customization that could be done at the dealership level, but most add-ons need to be submitted through a ticket with Dealer.com."
– Dealer.com Review, Barrie W.
2. Elead
Elead is an automotive CRM built to help dealers convert leads into sales and develop long-lasting and rewarding relationships with customers.
What users like:
"The system works well to discover all of our customers in the database. Elead allows us to figure out how in-depth we need to be to acquire their business. We have so many customers and leads, so we need to be able to track conversations in progress."
– Elead Review, Kaitlyn E.
What users dislike:
"Basic CRM functions are needlessly challenging to perform, which makes it difficult when trying to teach people who aren't the most tech-savvy to use the software."
– Elead Review, Andrew S.
3. Carsforsale.com
Carsforsale.com offers a suite of lead generation tools that are designed to drive exposure, efficiency, and results. Carsforsale.com has been in business for over 22 years and currently serves more than 22,500 independent and franchise car dealers in the U.S.
What users like:
"Just compare the pricing of the competition and you will see for yourself that Carsforsale.com is the best value in the market!"
– Carsforsale.com Review, Jeff K.
What users dislike:
"It's a little more difficult to manage than we had initially thought. Uploading pictures is not always smooth."
– Carsforsale.com Review, Michael C.
4. Matador
Matador is a marketing and automation platform that helps businesses in the automotive industry create better customer experiences, increase sales, and improve productivity. What makes it stand out is its intuitive interface and SMS automation.
What users like:
"Matador offers an easy way to stay in touch with prospects and convert them into new leads. Also, the platform is easy to integrate with our CRM which gives us the chance to re-engage SMS leads that did not finalize the purchase process."
– Matador Review, Marco A.
What users dislike:
"New features are added every week and training our team to use them can be a bit overwhelming, especially with larger organizations. I would also be happier if it had more integrations with third-party software."
– Matador Review, Noubar T.
5. Impel
Impel has an end-to-end omnichannel solution that offers dealers, wholesalers, OEMs, and third-party marketplaces an advanced digital engagement platform. Its suite of tools includes marketing, communications, and merchandising with seamless integration across the leading CRM and DMS software.
What users like:
"The support team is hyper-responsive and follows up on issues. Best bang for your buck in the automotive picture world."
– Impel Review, Ben C.
What users dislike:
"We were missing a couple of features in the beginning. For instance, if we marked the customer lost in our CRM, the software did not pick up on that. It's since been fixed."
– Impel Review, Amanda W.
Crafting a robust marketing strategy for car sales
It's easy to become overwhelmed when choosing a path forward in your marketing strategy. The best mindset to adopt at the beginning is to look at all these different strategies and tactics as new opportunities.
Don't feel obligated to do everything at once. Instead, pick out a handful of strategies and document an implementation plan. After a time, you can assess the results and decide where you can pivot to next.
Ready to take your automotive dealership to the next level? Learn which car dealer software can help you achieve greater efficiency and increase your sales.