Becoming a bookkeeper is more than just adding numbers and tracking invoices.
It's about helping companies to grow by keeping track of their finances. A bookkeeper analyzes company financial statements but focuses more on the actual money movement and transactions to compile figures on money in and out. This is usually detailed by services such as receipts, invoices, sales, payroll, and credit card statements. Modern bookkeepers generally leverage accounting software to centralize all financial processes and automate some services to increase efficiency.
Bookkeeping has become one of the most sought job positions. This article is about how to become a good bookkeeper and the tips to keep in mind for being one.
How to become a bookkeeper
Earn an associate's degree
Enroll yourself in a training program
Acquire a certification
Obtain a license
Get familiar with accounting software
How to become a bookkeeper
Becoming a bookkeeper is one of the most rewarding careers you can choose. You'll get to work with numbers, stay organized, and help small businesses grow. But how do you go from having no idea what a double-entry ledger is to landing your dream job?
It starts with getting educated in accounting or business administration.
1. Earn an associate's degree
The beauty of bookkeeping is that it doesn't require a 4-year college degree. However, this doesn't mean there isn't a surprising amount of knowledge needed to do this job. While a lot of this comes with hands-on work experience, some employers might want to see that you've at least earned an associate's degree before starting your career in earnest. The best online programs offer an opportunity for you to gain practical skills and experience through internships.
Ensure the school you choose offers these courses:
Accounting principles
Business Law
Computer Applications
Mathematics
Payroll Systems
Taxes
Financial Management Practices
Record Keeping Methods
Marketing Principles
Customer Service Skills Development
Ethics
2. Enroll yourself in a training program
Hand-in-hand with the imperative for education, most employers won't hire a new bookkeeper fresh out of high school or college. Most of them want to know you've acquired valuable skills that will help you pick up a full-time position with little trouble. Generally, this will take the form of an internship, co-op, or part-time work that will give you an in-depth look into how a company upholds new regulations and manages its records.
These programs are typically flexible, allowing students to study at their own pace and often allowing them to work while they study if needed. Online programs also tend to be less expensive than other options because they don't require classroom time or expensive travel costs.
This will give you a solid foundation in accounting and help you learn how to set up accounts, keep track of transactions, and perform basic bookkeeping tasks.
3. Acquire a certification
This one doesn't come until a little later, but it's still part of the journey to becoming a fully-fledged bookkeeper. After two years of working as a full-time bookkeeper, you can apply to the American Institute of Professional Bookkeepers to get officially certified. This usually entails taking a few courses and passing a four-part exam.
While this isn't strictly necessary for your career as a bookkeeper, it can open up a high tier of better-paying work that you might otherwise be unable to access.
After getting certified by the American Institute of Professional Bookkeepers (AIPB), you could work in any state without additional training or testing. In addition, it will give you access to valuable resources that can help you grow your career and expand your network of clients and colleagues.
4. Obtain a license
After getting an official certification, you can also choose to get a license to become a Certified Public Bookkeeper. This distinction opens up the highest tier of bookkeeping jobs and provides the best career prospects.
However, becoming a licensed Certified Public Bookkeeper requires you to complete further education and training, pass an additional test, and take 24 hours of continuing professional education classes each year to maintain your position.
5. Get familiar with accounting software
Every successful bookkeeper in our digital age has an intimate knowledge of various accounting tools.
There are many different programs out there that can help you get started on the right foot. Some programs even allow you to create books and track expenses and income. You'll need some basic knowledge of how these programs work, but once you learn that, it will be easy for you to begin entering data into them daily.
What does a bookkeeper do?
Bookkeepers keep track of money. They record transactions, enter them into a system and then reconcile the records with the bank statements when they come in. Bookkeepers are also responsible for the accuracy of their company's financial statements, which they prepare monthly or quarterly.
Bookkeeping is essential to running any business because it ensures that there are accurate records of all financial transactions and that these transactions are properly recorded and processed. Bookkeepers have an eye for detail and enjoy working with numbers. They can determine where money is going, how much they have in their account, and how much they need to pay out to their employees or vendors.
They don't manage money directly, but they ensure everything is accounted for properly, so you know what's going on with your business. Bookkeeping is also one of the most crucial parts of managing your finances. You need to keep track of all your transactions to ensure you're on track with your spending and saving goals.
Bookkeeping vs. accounting
While there is some overlap between bookkeeping and accounting, these are two distinct roles with separate and vital functions to the financial health of an organization.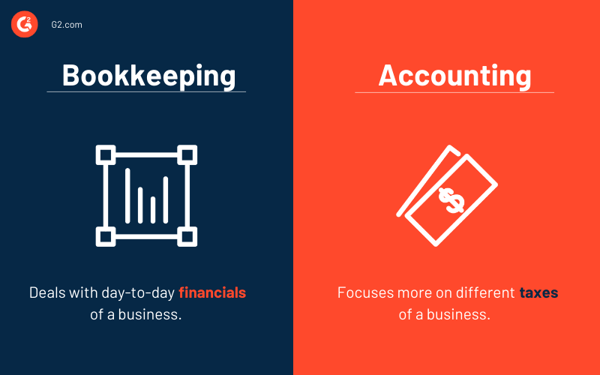 Bookkeepers, as we discussed earlier, are responsible for the day-to-day financials of a business. An accountant hardly ever works in the daily finances of a business. Instead, accountants work more directly in the stygian void of despair: the realm of taxes. They figure out how much a company owes and prepares tax returns while providing a bevy of other services such as auditing financial statements or evaluating records to propose money-saving strategies.
Cleaning the books
If you're considering entering the field of bookkeeping, consider finding out about the best associate program near you or applying for a part-time internship to gain some hands-on experience. The profession is in demand and provides a good quality of life for those willing to work.
Looking to get started bookkeeping for your own business? Check out our guide on small business bookkeeping essentials for all the wisdom you need.