At full capacity, Madison Square Garden can host more than 20,000 people in its arena.
Imagine you attend a sold-out show at The Garden and spot your friend across the venue. You stand up, wave your arms, and yell "I'm over here!", expecting to overpower the collective noise from the stage and the crowd.
Now imagine you're a small SaaS company with a powerful customer relationship management (CRM) system. CRM is a high-traffic category on G2, which means your product is competing with massive brands like Salesforce and HubSpot on Grid® Reports.
Solely relying on Grid® Reports to stand out from your competition is like trying to have a conversation across the arena at Madison Square Garden. Unless you're the one on stage, it's not going to happen.
Let's face it, you're not Salesforce. Your chances of being discovered on a Grid® Report are low.
Don't worry, just because you're lost in the Grid® doesn't mean all hope is gone. There are countless tools available at your fingertips (some already in your marketing toolkit) to help you craft compelling campaigns. So grab the mic, hop on stage, and learn what you can do to make G2 your next lead gen lever.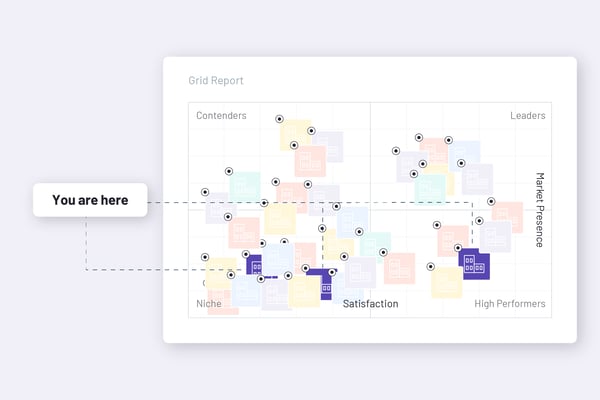 How to work beyond the Grid®
Some software categories are more crowded than others. For instance, a red category has fewer than 10 products, a yellow category has between 10 and 14 products, and a green category has more than 15 products on the Grid®.
G2 Grid® Reports compare products in a given category based on satisfaction and market presence scores. But even if your product is a leader in its segment, it's unlikely you'll stand out among your many competitors in a green category.
And in the end, you're lost in the grid.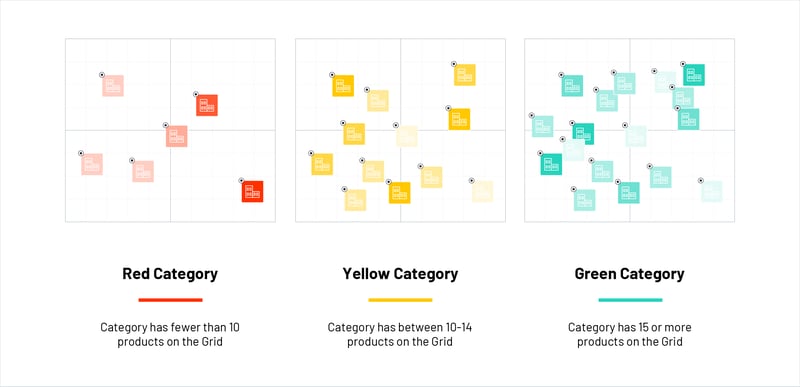 Even if you're not standing out on Grid® Reports, there are plenty of ways for your brand to come out on top. Simply put, it's important for your product to be on G2.com, no matter where you land on the Grid®.
First things first, you need to fill out your G2 product profile. This is where users go to learn more about your product. If your profile is incomplete, you can bet that buyers will bounce to a page with more information. Once your profile is complete, the rest is smooth sailing.
An ideal, optimized G2 profile can capture anywhere from 5% to 30% of the category traffic. To put this in perspective, the CRM category sees 573,620 users monthly. If your profile gets only 1% of that traffic, you'll be raking in 5,736 high-intent accounts.
Multiply 5,736 by your average conversion rate, and voila! That's the number of deals G2 can help you make an effect on.
Why your company needs to be on G2
SaaS companies of all sizes use G2 to:
Connect with buyers on the platform they use to research software and make purchase decisions
Discover accounts that are actively researching their company and competitors
Leverage G2 Seller Solutions to move buyers down the funnel
Remember, software buyers visit G2.com to research SaaS solutions and make educated purchasing decisions. These accounts have high intent and are valuable prospects to you, no matter where they are in their buying journey.
Here's why buyers may visit G2 at various stages of the funnel:
Top-of-the-funnel buyers realize they have a problem that needs to be solved and are exploring and researching potential solutions.
Mid-funnel buyers have already shortlisted their options and are now seriously vetting and comparing various solutions.
Bottom-of-the-funnel buyers are prepared to spend money but want reassurance that they're making the right decision for their business.
Drive user reviews with always-on campaigns

Once your G2 profile is up and running, you need to start gathering user reviews. Start by collecting quality reviews from your existing customers. From there, craft a plan to drive and sustain review collection long term.
Social proof influences purchase decisions, and buyers trust reviews more than anything else. You don't want to push buyers to your competitors' pages just because yours lacks reviews.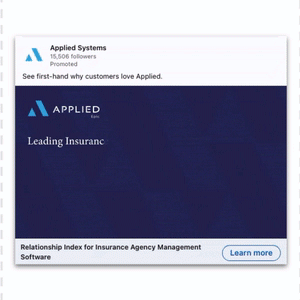 Source: Applied Systems
Above, you'll see how Applied Systems incorporates custom G2 social assets into its LinkedIn campaigns. This eye-catching asset leverages Applied Systems' customer voice to enhance paid campaigns and demonstrate value to prospective buyers.
Tip: Let your customers' voice do the selling for you. Learn how to use the G2 Content Subscription to transform reviews into revenue and convert prospects into customers.
Your review generation strategy should be an "always-on" initiative, meaning your team continuously solicits users to leave reviews. Automate this process with G2 Review Collection and grab impactful quotes and testimonials you can use for social media, display ads, and websites.
And as the number of reviews increases, you can leverage intent data to identify and connect with in-market, prospective buyers.
Campaign idea: Incorporate levers to make review collection easy and convenient
There are plenty of simple tactics you can use to collect more user reviews. Egnyte, for example, engages buyers and customers via employee email signatures. While Egnyte highlights its category ranking, this area can also be used to encourage customers to leave a review on G2.

G2 Review Levers make collecting reviews a piece of cake. These collection levers were specifically designed to help you safely collect more user reviews, without having to lift a finger.
These collection levers will help you safely and efficiently collect more reviews:
In-app reviews
Drupal widget
InMail prompts
Use intent data to identify in-market accounts
Buyer intent data collects signals and data points from different sources to paint a picture of where a buyer is in the purchasing process. Companies use these insights to identify target accounts so they can quickly engage with buyers.
Intent data can uncover insights about buyers at the top, middle, and bottom of the funnel. When you're in a crowded and competitive market, intent data helps you make sure you're targeting the right companies that are already considering solutions like yours.
But what if you don't have much traffic coming to your G2 profile? A common misconception is that buyer intent data only shows you users visiting your specific profile page – but this is untrue.
With G2 Buyer Intent, you can see which accounts visit category pages, view competitors' profiles, and run comparison reports between similar solutions.
And all of this data can be used to your advantage.
Strategy idea: Identify your top competitors and leverage their data
You're here to stand out. We're here to help you do it. G2 Buyer Intent can fuel campaigns and put you up against your biggest competitors – so long as you know how to use it.
Study the data in my.g2. See which accounts are looking at you and at your competitors.
Identify your closest competitors. These should be 3-5 of your most realistic, key competitors.
Go after target accounts. Look at the intent data traffic from your category and competitors. Go after the top 50-100 accounts and put every resource you have into getting a meeting from these high-intent buyers.
Don't forget about current customers. Use intent data to see which of your existing customers are researching other solutions. Target these accounts with a campaign that connects them with a customer success manager (CSM) to make sure they stay put.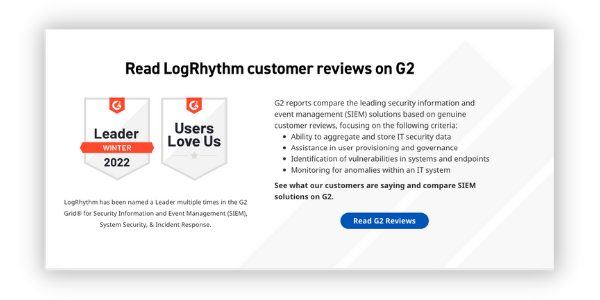 LogRhythm has an entire landing page dedicated to user reviews and customer testimonials. This page makes it easy for buyers to compare LogRhythm against its competitors and shortlist security information and event management (SIEM) software vendors.
Say, for instance, you create a similar page on your site and target those top 50-100 accounts. Similar to LogRhythm, you can encourage these buyers to read your reviews and compare your product against the competitors you already know they're considering.
Tap into powerful integrations to automate processes
Once these systems are put in place, make sure you fully take advantage of their capabilities. Leverage integrations to simplify your processes and deliver timely communications to your buyers.
G2's Technical Integrations help brands identify, engage, close, and retain customers. Integrate your intent data with your preferred sales or marketing platform. Our powerful integrations will take you to the next level and enable you to automate targeting, personalize messaging, and nail your outreach timing – from prospecting to retention.
Campaign idea: Run aggressive, hyper-targeted campaigns to your top 100 accounts
Use G2 Buyer Intent to look into the competitors in your category. Align your sales development representatives (SDRs) and focus hard on trying to book a meeting with your top 100 accounts.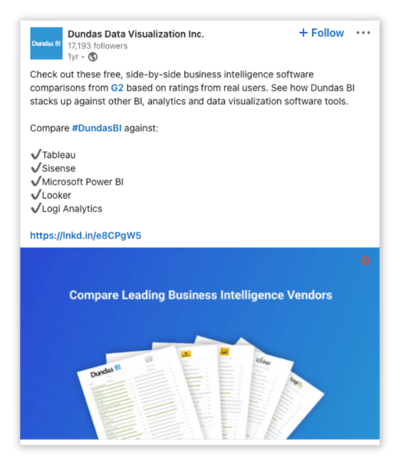 Source: Dundas
Dundas uses LinkedIn to showcase comparison reports against each of its top competitors. Posts like this are effective when retargeting buyers looking at your competitors on G2.
Once you collect this data, you can integrate it into your tech stack for maximum results.
Started from the bottom, now we're here
Just because you're lost in the Grid® doesn't mean you're lost in the crowd. There are plenty of things you can do to stand out among the major players in your space. Fuel an always-on review generator, gather valuable intent data, and tap into powerful integrations to make these processes seamless and support your bottom line.
Rise above the noise – don't contribute to it. At the end of the day, it's all about how you utilize your toolkit.
Get insightful data about your product based on valuable and extensive profile activity. Access your G2 Buyer Intent Data today.