Customer reviews confirm your selling points for buyers, but can be challenging to collect.
Capturing authentic opinions about your product helps potential buyers evaluate software solutions and ease buying decisions. However, gathering reviews can be tricky. Plytix leveraged their internal team and partnership with G2 to build a community rallying around their product, get more reviews, and increase marketing qualified leads (MQLs).
Plytix is product information management (PIM) software that helps small- and medium-sized businesses create, manage, and streamline product information. The platform also enables users to handle flexible variation, manage product relationships, and compute attributes.
While some mid-market companies don't prioritize review generation, Plytix recognized the power of reviews in swaying potential buyers and the impact customer testimonials had in generating new MQLs.
Although they started 2021 with just one new organic review, by the end of the year they were able to more than double their total number of reviews. If you look at Plytix's G2 profile now, you'll find it brimming with reviews and badges showcasing the product as a software category leader.
You may not see it, but these customer testimonials played a pivotal role in helping Plytix optimize MQL generation and reduce the cost per lead (CPL).
Linking meaningful customer reviews with business KPIs
Every great victory has a strong game plan behind it and soliciting reviews isn't any different. Plytix realized it had to leverage reviews to gain future customers' trust and boost brand visibility. For this reason, they devised a strategy to link customer reviews to key performance indicators (KPIs).
"We didn't have a review gathering strategy in place," says Ashley Duncan, PPC and Web Content Lead at Plytix. "We only had one review come in organically in 2021 before we decided to see if we could get more, starting in August 2021."
Low review numbers were not only impacting Plytix's presence on G2, but also meant MQLs were trickling in.
Duncan explains, "Before focusing on review generation, we only had a few MQLs per month coming organically from G2, but they were barely a drop in the overall MQL pond. They were costing us nearly what we were paying for MQLs on other channels like Google Ads and LinkedIn."
Challenges
Plytix wanted to generate more reviews on G2 with two goals in mind:
Improve performance on G2 with customer reviews
Increase the number of MQLs and lower the cost per MQL
Reviews help future customers dive deep into how your product solves problems similar to theirs. In fact, 92% of B2B buyers are more likely to purchase after reading a trusted review.
One review was never going to cut it for Plytix. They wanted their G2 profile to reflect what they truly stand for: collaborative product information management. Furthermore, they were looking for smarter ways to generate qualified leads in a more cost-effective way.
At this point, they realized the need to invest in review generation.
Tuning into customers and building community with G2
There isn't a better place than G2 when a company wants to get in front of customers researching software. With more than 60 million annual visitors, G2 is the best place to collect, display, and promote social proof.
Plytix used G2 Review Generation to automate review collection, build credibility, and attract potential buyers.
Solutions
Plytix generated more reviews and optimized MQL generation using:
G2 Review Generation campaigns to collect real customer reviews and drive interest in their product
G2 Content Subscription to influence prospects with competitor comparison reports
Plytix's customer success and marketing teams work together to translate customer relationships into G2 reviews. Plytix sends every customer who leaves them a review a pair of branded socks and a handwritten note, resulting in the creation of the unofficial "Plytix Socks Club", which now has members around the globe.
Plytix is also part of the G2 Gives program to incentivize review campaigns and contribute to worthy causes. Duncan explains, "Our G2 Gives link has been a big part of this project. We've raised almost $1,000 so far for Girls Who Code."
Generating more user reviews and MQLs at a lower cost with G2
It didn't take long for Plytix to climb to the top of their primary software category on G2. They even ended up with the most reviews of all PIM providers after redoubling efforts to generate customer reviews.
To share these results and solidify their market presence, Plytix leveraged the G2 Content Subscription to share G2's objective, third-party comparison reports. Plytix's sales team uses these reports to influence prospects with accurate, review data on the ease of use and customer service.
Plytix also used G2 report data to create and share digital assets for targeted campaigns on social media platforms.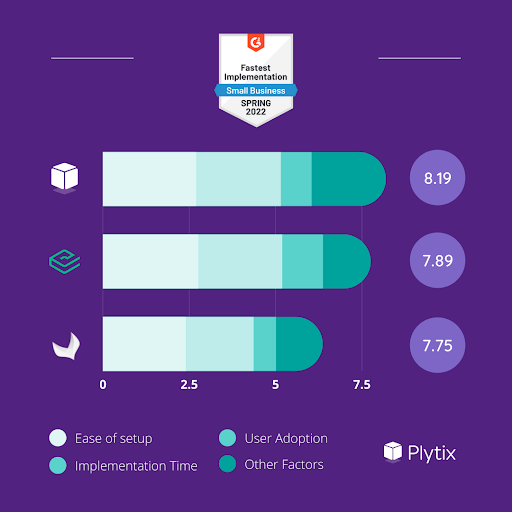 Duncan explains, "Once we put some effort into our review generation strategy, we saw the number of MQLs from G2 soar, with the cost per MQL decreasing proportionally."
Within five months, Plytix saw a sharp increase in the number of MQLs from G2.
"11% of our MQLs came from G2, which is a record and makes G2 our second-best performing paid channel," clarifies Duncan.
82%
lower cost per MQL from G2 in January 2022, compared to Plytix's overall cost per MQL
80+
user reviews gathered in less than a year
11%
of MQLs in January 2022 came from G2
G2 Seller Solutions continue to play a key role in how Plytix collects customer reviews, generates highly targeted leads, and reduces their cost per MQL.
Duncan reflects, "We went into this project just focusing on G2, and it's been remarkable to see how an increase in reviews on G2 can correlate with more business."
Want to sell more software? Get in front of companies researching your product with G2 Seller Solutions.