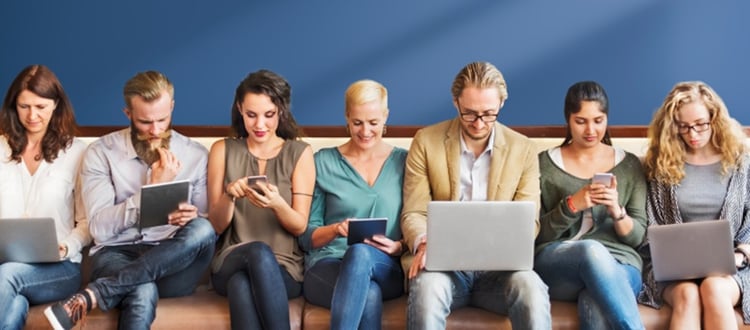 Your sales team determines the success or failure of your operation.
This shouldn't come as a surprise to you, but if you're like other sales managers, you don't start looking for new sales candidates until one of your salespeople leaves the company.
By then, it's too late. You'll have to scramble to fill the role.
This chaos will often result in you rushing to find the right person or settling for someone who is just "good enough." These hasty hiring decisions don't solve anything. You still need a great salesperson, and the person you just hired isn't likely to be that.
Stop Hiring, Start Recruiting
Wouldn't it be nice to have a bench of talented candidates, all waiting to come work for you? Already interviewed, references checked, ready to go? Recruiting makes this possible.
Start looking at the hiring process from the recruitment perspective, and truly start running your business effectively. Follow these tips for strong recruiting and never be a victim of reactive hiring again.
The hiring mindset: "I'm sorry, we don't have any openings right now."
The recruiting mindset: "We are always looking for talented sales representatives to join our team."
Now that you understand the difference between hiring and recruiting, let's talk about the interview process.
The Talent Bench: What is it?
Recruitment doesn't start when someone leaves. It is a never-ending process that eliminates the need for the hasty hiring of lackluster talent and saves you time and money. Recruitment gives you control.
Think it about it this way – would you be able to operate effectively if you solely depended on just your current accounts alone? No way! The same philosophy applies to your sales team.
Recruitment should be happening every day as a part of your weekly activity. Even if you think you have the "perfect" staff in place, you never know when that might change. The business may grow which will drive you to need an additional seller onboard. Someone might unexpectedly take a position elsewhere. Or even worse – one of your current sales reps might plan to stay but perform below par!
Strong recruitment ensures that you don't have to settle for a disappointing performance. When you fill the bench with quality, talented candidates, you are always prepared with someone ready, willing, and able to join your team when the opportunity arises.
Highly talented salespeople usually have a pretty successful career already, so they aren't looking for a job. You have to find them, and you need to give them a reason to talk to you – even when you don't have an immediate opening. Plan to sell them on your company (which can take time!), and make sure you have these conversations consistently.
Finding quality candidates is easy when you look in the right places.
Talent loves talent, and a great place to start is with the talented people on your current team. Ask them for referrals, and if your company doesn't have an employee referral program with a monetary incentive, create one.
Find networks of people in sales that are great lead sources for you.
Ask your clients for impressive reps in the market that they think highly of and learn why.
Search LinkedIn for profiles of salespeople in your industry that stand out.
Proactively select the right people for your team … even when you don't have an opening.
The Process
After you have identified the candidates that YOU want, you must have a process in place and never skip steps. I will share my process with you because I feel it's a good one with proven results.
One of the things that I like most about following these guidelines is that it eliminates the personal bias that can get in the way of a good hiring decision. Most good recruiters will agree that your lens becomes foggy when interviewing someone that has a sparkling personality – you don't see their true talents as clearly.
You also can have what many call "glare" if you have a lot in common – like you went to the same high school or college, or you grew up in the same neighborhood. Just because you share these common experiences, does not mean they will be the right salesperson to perform in your job. Always begin with a clear understanding of who that person is at their core, and how they are innately wired to behave.
In other words, know their talents.
Follow This Process Every Time
1. Initial Contact
Remember to state the reason you are calling.
For example, "One of our clients recommended I call you because he said you are an outstanding marketer, and you have helped his business tremendously. We currently have opportunities that may be of interest to you. I would love to set up a time to give you some more information about our company and get to know you better as well."

2. Initial Meeting and Phone Screen
This step will depend on the candidate's level of interest.
If there is more information to exchange, or a comfort level needs to be established, a quick meeting over coffee or lunch is a good idea. The next step should be a recorded phone interview using the Sales Talent Screener.
3. Face-to-Face Interview
After the phone screen, jot down your areas of concern and formulate specific questions to address them. Then, set up another meeting in-person to dig deeper and learn more. The face-to-face interview is a great opportunity to introduce other managers to your candidate and, if things go in the right direction, you should be prepared to address salary requirements and fit for the position.
4. Talent Interview
A standardized talent assessment, such as the Sales Talent Interview, will ultimately determine if this person has the right combination and intensity of talents to be successful in your open position.
The detailed analysis will provide you with a hiring recommendation as well as specific information on the behaviors you should expect if you were to hire them, and the type of coaching they will need to be successful. And you will always learn WHY.
5. Talent Bench
At this point, you can add the candidate to your bench or extend an offer.
Talent is everywhere. You just have to look in the right places. The larger your funnel, the better because you need to talk to a large number of candidates to find those select few with the talent you need.
It takes time in the front end, but it is much easier than speeding up the process, hiring the wrong person, and getting stuck in the hiring cycle when that person leaves (or is helped to the door).
It is amazing what can happen when you have talented candidates on your sales team.
When you have the right people in place, your sales organization will run like a well-oiled machine. You will exceed your goals and spend your time creating opportunities with your reps, instead of solving problems that don't have anything to do with increasing revenue. Talented people want to learn. They want to be trained and coached, and most importantly, they come to work happy and ready do their very best every day.
When you start with talent, you end with performance – and a very successful sales organization.
Editor's Note: this post was originally published April 5, 2012 and has been updated.