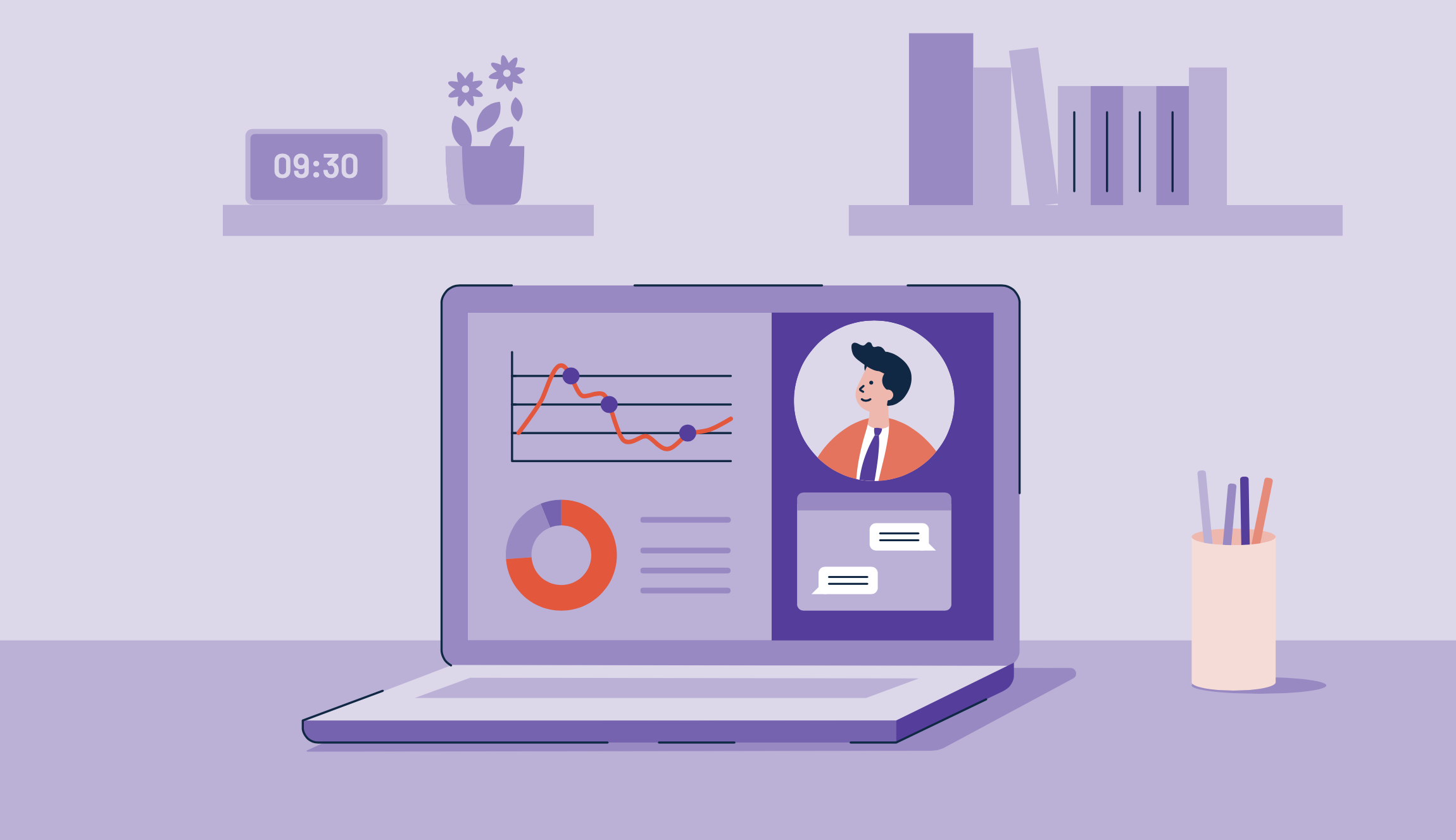 Let me just go ahead and shaaaaare myyyy screeeeen…
Ok great. Can everyone see this? Today, I'll be presenting about the best free presentation software for 2022.
We've all been there: struggling to put together the perfect slides for a really important meeting or school project. Bringing a visual aid to the table is necessary to keep your audience engaged.
But finding the right place to build your presentation is challenging. Are there templates? Are there customization tools? How much is this going to cost me?
You can use presentation software to create interactive slide decks to elevate your message. Presentation software allows users to build dynamic slides, stay brand consistent, and utilize other forms of media like images and videos. These presentations can be made even more interactive when integrated with audience response systems to construct live polls and quizzes and video conferencing software to make everything digitally seamless.
Free trials and free basic plans make upgrading your presentations a little easier on the bank. You can start building virtual presentations, adding immersive elements like animations and live participation tools, and collecting audience analytics – without spending a dime.
What are the best free presentation software solutions for 2022?
DocSend
Renderforest
Powtoon
Beautiful.ai
emaze
RELAYTO
Vyond
Knovio
Mentimeter
Personify Presenter
Best free presentation solutions
Whether you're creating an instructional onboarding deck or showing off your latest metrics in a team meeting, there is a free presentation solution to fit your needs and wants.
The list below contains real user reviews from the best presentation software category. It's important to note that in the context of this list, vendors that offer a free trial are also considered to be free.
To be included in this category, a software must:
Provide tools for building presentation slides
Offer slide templates and themes
Utilize unique slide animations and transitions
Allow for users to embed text, audio, images, and videos within the presentation
*This data was pulled from G2 on April 4, 2022. Some reviews may have been edited for clarity.
1. DocSend
DocSend by Dropbox helps companies create and maintain presentations and other important documents. DocSend's free trial allows users to increase file security, share content within their organization, and track link analytics.
What users like:
"DocSend is simply a better way to share content with prospective clients, from documents and presentations to video clips and proposals. Prospective clients like the organized access to relevant content. It's quickly become a critical resource for us."
– DocSend Review, Chris H.
What users dislike:
"Once you erase a version, you lose all the insights on it. It would be better to have a deposit of everyone reviewing the deck or document and improved version management."
– DocSend Review, Ronen B.
2. Renderforest
Renderforest is an all-in-one platform that brings presentations to life with graphics, videos, and animations. A free Renderforest plan allows for unlimited mockups, access to over 200,000 stock videos, and free subdomains.
What users like:
"Renderforest is one of the best online video software for any of my video projects. Whether it's an animation, intro project, corporate presentation, or slideshow, Renderforest gives you user-friendly templates that are customizable, and the final product is very professionally done. Since using this platform, the amount of commendation that my projects have received is overwhelming."
– Renderforest Review, Sherdon F.
What users dislike:
"I would like to see more templates and more flexibility in Renderforest."
– Renderforest Review, Shubham K.
3. Powtoon
Powtoon is a visual communication platform that allows users to animate their presentations. Powtoon offers access to hundreds of presentation templates, brand-consistent slides, and shareable folders with paid options and a free plan.
What users like:
"The best thing about Powtoon is the user interface. It's super intuitive and the professionally designed template library is feature-rich with scenes, characters, props, background music, and much more."
– Powtoon Review, Zuber A.
What users dislike:
"The free properties are unique but very limited. It would be great if they added more."
– Powtoon Review, Kai A.
4. Beautiful.ai
Beautiful.ai has smart templates to make presentation building a breeze. The Beautiful.ai paid plan options include onboarding guides, collaborative workspaces, viewer analytics, and more. Their free trial lets users get a taste of everything they offer.
What users like:
"Beautiful.ai makes creating presentations easy. Just finished your slide and want to add another point? Not a problem: you can easily add a bullet or object or chart, and the whole slide magically moves around and realigns for you."
– Beautiful.ai Review, Anne-Marie M.
What users dislike:
"There's a small learning curve when getting started on the platform. Because the design is automated, some people have trouble with the minor limitations around customization. Be patient and explore the platform in its entirety. Eventually, you'll see that the limitations are extremely helpful in creating congruency and professionalism in your presentations."
– Beautiful.ai Review, Maddie P.
5. emaze
emaze gives users the tools they need to automate the digital presentation building process. The emaze free basic plan includes unlimited PowerPoint importation, widgets, embedding, graphs, contact lists, audience analytics, and more.
What users like:
"I love the ease of use with emaze, with an added professional look with extra flair. Every template is different, and there are templates for every topic you can think of. The ease of use and editing helps from year to year when I update the same topic."
– emaze Review, Dianna W.
What users dislike:
"I wish there were more templates available for those who are not as creative as others. In addition, when presenting, I wish the bar at the bottom would disappear so that people can't see how much of the presentation is left."
– emaze Review, Amanda G.
6. RELAYTO
RELAYTO is a document experience platform for creating immersive presentations. RELAYTO has sharing, embedding, converting, and auto-generating tools. Qualified users can enjoy these features for free.
What users like:
"My experience with RELAYTO has been truly eye-opening. The ability to add depth and dimension to presentations truly elevates our status in the eyes of prospects and clients as a company that brings professionalism and real value to them. We know how great our solutions and client services are, yet using other platforms doesn't do the job of conveying that to the client as RELAYTO does."
– RELAYTO Review, Mike R.
What users dislike:
"I have only ever designed for print, so there's a bit of a learning curve, but their support is top-notch. You can book a consultation with an expert on how you want to use the platform. Once over that curve, the results are remarkable."
– RELAYTO Review, KD G.
7. Vyond
Vyond elevates presentations with video. With Vyond, presenters can utilize video animations, character creation, and social media sharing capabilities. Users can sign up for a free trial to see if Vyond is the right fit.
What users like:
"Vyond is really easy to learn, making it a great tool for our onboarding team members to learn and use right away. There is a low barrier for entry for new users, so we can rely on Vyond as a useful and result-oriented tool that our new team members can start using right away."
– Vyond Review, Samantha L.
What users dislike:
"The objects available in the Vyond library are not fully customizable, plus the library is small. You may not always be able to find what you're looking for. Adding a feature in which users can customize those objects would be a solution to this."
– Vyond Review, Ehsaan K.
8. Knovio
Knovio is a smart platform for creating on-demand videos and presentations. It offers tools for adding video and audio narration to presentation slides, sharing content collections, and analyzing viewer engagement. The free lite version of Knovio lets users test drive some of these features.
What users like:
"Knovio has come quite a long way since I first used it. I love how responsive the company has been to improvement suggestions. I also love that you can edit your recording and replace slides."
– Knovio Review, Dawn W.
What users dislike:
"The analytics are powerful; however, I feel creating custom reports could be improved."
– Knovio Review, Tim D.
9. Mentimeter
Mentimeter is an audience engagement platform with tools to build interactive presentations, compile data from live polls, and collect insights about user participation. The Mentimeter free plan offers unlimited audiences and presentations.
What users like:
"Any presentation created with Mentimeter looks professional and presentable. Mentimeter takes care of the design aspect for you. It's straightforward and extremely easy to use. It's also flexible – I've used Mentimeter for live surveys, quizzes, and training. They've got excellent customer support, too. "
– Mentimeter Review, Haley S.
What users dislike:
"At times, Mentimeter can feel a bit overly simplistic or repetitive. Most Mentimeter presentations tend to look very similar, and the engagement tools are limited to a degree."
– Mentimeter Review, Stephanie H.
10. Personify Presenter
Personify Presenter is an online platform for integrating audio and video into presentations. It offers tools for recording, live editing, file uploading, and writing for seamless presenting. A 30-day free trial lets users give Presenter a try.
What users like:
"It's one of the best presenter tools for business presentations. It consists of preset themes and fonts. It also has a library of images and GIFs which can be added to the slides. The notes function only displays to the presenter of the slides which helps them recall the content if necessary."
– Personify Presenter Review, Kumar A.
What users dislike:
"It doesn't recognize boundaries too well, and the video resolution is a little low compared to HD."
– Personify Presenter Review, Ananth K.
Next slide, please!
Before you deliver project metrics or show your students what the lesson has in store for them today, consider whether automating your presentation could boost the message. No matter your skill level, presentation software gives you the tools you need to create a unique presentation experience and upgrade the way you share.
If you have any questions, make sure to drop them in the chat.
Ready to unmute and wow your audience? Find out how you can elevate a virtual presentation and bring your content to life.