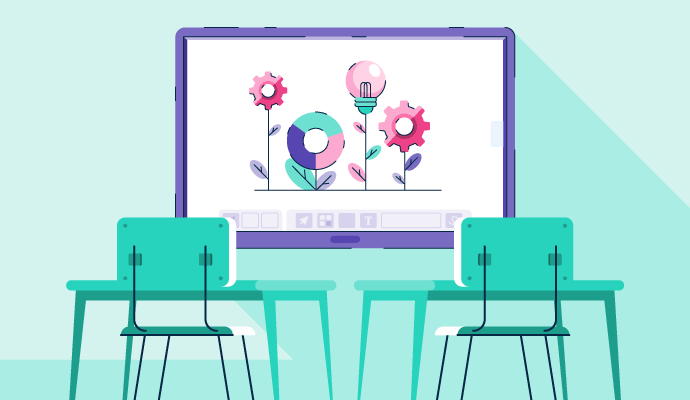 It takes a special type of person to teach for a living.
You must be patient, kind, and dedicated to serving those around you. While those traits cannot be taught, classroom management can.
What is classroom management?
Classroom management refers to the skills, techniques, and tactics that teachers use to ensure their classroom is running smoothly. A big part of classroom management is making sure students are orderly and attentive, rather than being disruptive and unfocused.
Classroom management software is great for creating a classroom free of distractions and using technology to engage students in a new and innovative way.
No matter the age of the students, any classroom can get out of hand. Without the right classroom management strategies, educators can start to feel overwhelmed and out of control.
14 classroom management strategies
Let's take a look at some different classroom management strategies that can help you create an efficient and productive classroom setting.
1. Model ideal behavior
We have all heard the saying "practice what you preach."
This is especially important when conducting yourself around students. The younger they are, the more they are impacted by the people and things around them. Demonstrate the behavior you want to see in your students every day. Use polite and positive language, don't interrupt people, and voice concerns respectively.
2. Maintain authority
It's easy to become more lax with students as the year goes on.
Make sure you retain your status as the classroom authority figure throughout the entire year. When you don't abide by your own rules or follow through on the consequences, you lose that authority.
3. Include the students in establishing guidelines
Power to the people, no matter how little they are.
A good way to start the school year is by asking the students what they think should and shouldn't be allowed in the classroom. This way they feel included in the process, as opposed to you simply reading off the rules to them.
When making the rules, come prepared with questions:
When should technology be allowed?
When is it appropriate to talk and when should you just listen?
How should we all be treating each other?
Make it a discussion to show your students you respect their ideas just as much as your own.
4. Document the rules
You can't trust your students, or yourself for that matter, to remember every single rule the class decided on.
Document the rules you and your students came up with. Make them accessible in more than one place. Print and distribute a list of the rules so each student has their own copy and post a big poster version in the classroom. This way, when a student breaks a rule, you can physically point to the document and remind them that these rules were agreed upon at the beginning of the term.
5. Offer praise
In one way or another, everybody likes to be recognized for their hard work.
Show the students you are proud of their efforts to learn and work hard. If a student is having success by doing things differently, ask them to be a point of reference for other students struggling.
This does not mean you should only celebrate good grades. Praise out-of-the-box thinking, hard work, original ideas, leadership, and kindness. Any hard or soft skill a student shows that makes a positive impact, celebrate it. Have a reward system, throw an occasional party, and use words of encouragement.
6. Make positive calls home
It can be easy to get in the habit of only calling students' parents when they misbehave.
Yes, you should call home if you think a parent needs to be aware of their student's bad behavior, but you must make a point to call home with positive things to say to parents as well. Every parent will want to hear good things about their child, and it is likely that they will relay your praises to the student, which will motivate them even further.
7. Use nonverbal communication
Your actions really do speak louder than your words.
Don't rely on verbal communication alone. Complement your words with nonverbal communication as well. This will not only improve the message delivery but the students' reception of it as well. Use pictures, videos, and physical objects to back up your words.
8. Build excitement
You wouldn't get excited about getting an invitation to a party if the person giving it to you appeared to be gloomy.
Delivery is everything. Bring excitement to the classroom and get students enthusiastic about the day's lesson plan. Apply course material to concepts they can understand by bringing in real-world examples.
9. Accommodate all learning styles
There is a good chance you will run into a lot of different learning and living styles during your time as a teacher.
It is important that you accommodate all students. Some will require extra time and attention, while others will perform better with a hands-off approach. Identify how each student learns best and give them an idea of the procedures they should be following.
If you have students with unique educational needs, consider using some special education software to help you manage their individualized education plans.
10. Assign open-ended projects
A good method for understanding the way a specific student operates is by assigning open-ended projects.
Encourage students to work on projects that don't necessarily call for a particular finished product. Give them a prompt and let them naturally express their knowledge. While some structure is necessary, make these projects as open to interpretation as possible. And of course, expect some questions.
11. Always be prepared
There is a lot to manage throughout the day as an educator.
While you can't prepare for everything, equipping yourself for the day in the best way you can will only set you up for success. Draw up your lesson plan, follow the curriculum, and anticipate problems that might arise throughout the day.
12. Address poor behavior right away
Do not hesitate when it comes to addressing bad behavior. Failure to confront a student about their inappropriate actions can lead to worse behavior, negative feelings, and even more difficult conversations.
13. Take advantage of technology
If you've been living under a rock lately, wake up and smell the technology. There are countless education software tools available to teachers to make their life in the classroom more organized, manageable, and chaos-free.
14. Build relationships
There are classroom management strategies that won't work for certain classrooms. This is not one of them.
Build relationships with your students based on trust. When your students trust you, they are more likely to feel inclined to follow the rules. On top of that, teachers that put effort into their relationships with their students find their job more fulfilling.
Classroom management software
Adding technology into the classroom can sound like a daunting task. Luckily, there are software tools made to put all the features you need in one place.
To be included in this category, the software product must be able to:
Provide tools for asking and answering questions in real-time
Create virtual spaces for students
Allow for in-class messaging
*Below are the top 5 leading classroom management software solutions from G2's Fall 2022 Grid® Report. Some reviews may be edited for clarity.
1. ClassDojo
ClassDojo is a classroom communication tool that focuses on connecting teachers and families. In ClassDojo, teachers can edit attendance sheets, add important events to public calendars, share photos and updates with parents, and more.
What users like:
"The great thing about this particular app was the ability to connect with/message the parents quickly through text in the app! Also, parents were able to view when their student was rewarded or reprimanded for their behavior using a point system within the app. When students did well in class, the teacher could choose what they were being rewarded for, and when students needed redirection, the reason was indicated and points were taken accordingly.
In addition, you could display student points on the projector so the students could see and even hear when they received points or heard of points being taken away. It made rewarding and giving consequences very interactive! I genuinely believe that this app helped my students perform better in class!"
– ClassDojo Review, Kimberly T., Aug 17, 2022
What users dislike:
"Something I dislike about ClassDojo is that the process of getting parents to connect to the ClassDojo account can be difficult. I often have to step-by-step guide my families to connecting to the app."
– ClassDojo Review, Kelsey G., Sep 20, 2021
2. Nearpod
Teachers make the classroom more interactive with Nearpod. Educators can utilize visually dynamic media, customize premade lessons, and invite students to participate in person or virtually.
What users like:
"Nearpod is easy to use. It helps take a simple presentation and makes it more interactive. It is great to use for educational presentations. I would recommend Nearpod to other educators, especially for older students. Nearpod works especially well for English language learning students."
– Nearpod Review, Nikki C., Apr 20, 2022
What users dislike:
"I'm not too fond of that it often kicks students out of the Nearpod lesson, and they have to go and sign in again. This seems to be happening more and more frequently than in past years. I do not like that there is potentially a cost to use this. With COVID, I have been able to use this for free but I'm afraid I will have to have a subscription soon."
– Nearpod Review, Ali L., Dec 15, 2021
3. Lumio by SMART
Lumio by SMART is a digital learning tool that prioritizes making the classroom a more collaborative space. Lumio allows teachers to edit existing presentations to include interactive activities, keep an eye on student work in real time, and give instant feedback.
What users like:
"As a classroom teacher, I am always in search of creative ways to keep my students engaged and excited about learning. Lumio by SMART has brought such joy into our classrooms. Imagine 17 students vigorously reaching for their devices in anticipation of joining the math review game for the day. This is the reality of my classroom after utilizing the many resources provided. Students love the option to work independently or in groups."
– Lumio by SMART Review, Syndie W., Oct 14, 2022
What users dislike:
"There is not a lot in the library that can be used with higher education. I also would like to see some of the old SMART activities updated to match the Lumio look. Like when you look in the library, you can tell which items are old school SMART and which ones are Lumio."
– Lumio by SMART Review, Samantha F., Sep 20, 2022
4. LanSchool
LanSchool is a cloud-based and locally-hosted solution that promotes time management and student safety. Features include screen monitoring, instant messaging, limited web browsing, and a parent portal to keep communication flowing.
What users like:
"LanSchool has been an absolute game-changer in my classroom. During virtual education and the pandemic, they became used to gaming or otherwise tuning out during class, then Googling all the answers once it came time to complete their assignments. This behavior carried over into the classroom this semester, and I have had to resort to LanSchool to manage it.
Using LanSchool, I can block specific websites and applications during class, check in on students to ensure they are on task, and blank student screens when they need to focus on the front of the classroom."
– LanSchool Review, Spencer B., Sep 2, 2021
What users dislike:
"I never learned how to update all of the remote computers from my main computer when updates were issued to the software, so that required time and effort duplicating the installs to every student computer."
– LanSchool Review, Pam Driscoll F., Mar 16, 2022
5. Dyknow Classroom
Dyknow Classroom focuses on monitoring school-issued devices. With Dyknow Classroom, educators can block certain websites and applications, view activity history, keep students on task, and teach more confidently overall.
What users like:
"The product is very intuitive, and our teachers do not need a lot of training to understand all of its features and how they can use them in a classroom setting. It can be set up to always be on so the teacher does not have to remember to launch the software at the beginning of a class. It allows the teacher to limit specific websites from being launched. It can direct message students so a teacher can send a link in a chat message to all students or select students to access that site with a click."
– Dyknow Classroom Review, Chris S., Oct 20, 2021
What users dislike:
"I wish that there were a way to set a list of blocked websites that would always remain blocked. I currently have to begin my session and then click the list of sites that I want to block. Also, I wish that session would last longer than 2 hours."
– Dyknow Classroom Review, Michael B., Sep 28, 2021
Run the classroom
Any classroom can become overwhelmed with unfocused students and a lack of order. Adopting these classroom management strategies will put you in complete control of your teaching space, giving you the best result an educator can ask for: making a difference in the lives of students.
Want to learn more about integrating technology in the classroom? Find out how EdTech can give you the tools to upgrade your teaching game.