In a sea of stakeholders, pick the customer.
We recently organized an in-person customer-facing event called G2 Summer Social and hosted over a hundred customers and market leaders. The event was the perfect opportunity for people to connect and learn more about the importance of focusing on customers.
Our very own CMO, Amanda Malko, hosted a panel with three of the best B2B CMOs to talk about customer-led growth, its significance, and what matters regarding customer acquisition and retention.
The panel was a powerhouse of women: Maria Pergolino, CMO of ActiveCampaign; Latané Conant, CMO of 6sense; and Jamie Gilpin, CMO at Sprout Social – three of the top leaders in their respective software categories. All panel members are leading marketing professionals and have rich knowledge about navigating the world of driving marketing efforts through customer intent.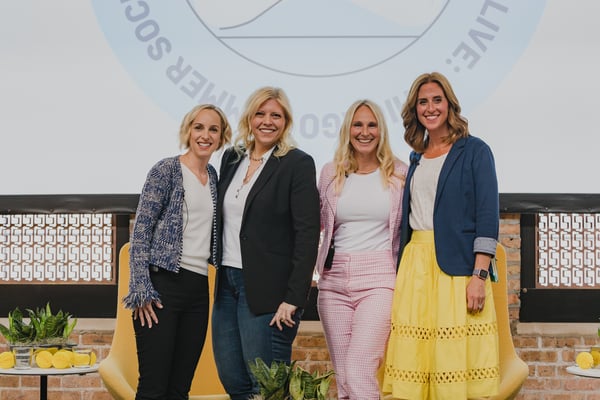 From left to right: Amanda Malko, Maria Pergolino, Latané Conant, Jamie Gilpin
The true meaning behind being a customer-centric business
All great companies understand the need to invest in people and processes that focus on customer situations, perceptions, and expectations. Customer-led growth begins with aligning goals across an organization by empathizing with the target user and placing the customer at the core of operations and expansion strategies.
"Sometimes customer voice, and being customer-centric, is really just putting your customers together to learn from each other."

Amanda Malko
CMO at G2
Jamie Gilpin asks a critical question when elucidating on her experience empowering a customer-centric business: "What is it not to be customer-led?"
With the social media marketing category seeing a massive shift in the past five years, Gilpin realized early on that solutions and their use cases will continue to evolve in changing economic and global circumstances. She leads with the principle that customer-led growth can no longer be a strategy, but must be an ethos of operation for any successful business.
For Maria Pergolino, leveraging customer voice is all about inviting them to share stories, understand the product, and strive to serve customers who may not have chanced upon the right software.
Pergolino explains that it is not just about how good the marketing team is at storytelling, it's about the ease with which customers can describe the product and the problems it solves for them.
The ABM category on G2 is getting increasingly difficult to rank, but 6sense has provided value through two customer-centric strategies:
Current customer feedback
Market feedback
Latané Conant states that while listening to customer reviews and feedback is vital, a great solution must be able to anticipate where the market is headed. A company can serve today's customers in a much more informed manner if it can help users stay ahead of their competitors.
One suggestion Conant shares with the audience is to use customer sentiment on SaaS review sites, like G2, verbatim on social platforms and display ads. She believes that this highlights authority and increases review credibility for potential buyers.
The CMOs also agree that extracting nuggets of information from customer reviews and dissecting data obtained from Grid Reports provides business insights into category shifts and product positioning.
The power of incorporating customer insights into each organizational process
Optimizing the customer experience and journey is impossible without using insights to understand why customers are doing what they're doing. Great marketing focuses both on insight generation and turning the information into actionable and accessible intelligence.
Customer insights must be at the forefront of data-driven decisions for the modern marketer.
The leaders at Sprout Social recognize that it is easy to be customer-centric when selling to yourself. Gilpin elaborates on this mindset by saying she considers the company's social media management team as her primary audience on a user level.
It is crucial for marketing departments to interact with sales teams using collected customer reviews to educate them on customer sentiment.
One of Pergolino's most impactful campaigns involves making employees use their product offering to create personalized use cases for the software solution. She recommends celebrating how employees use the platform to increase motivation and empathy for the product and customers.
Conant has found that leveraging customer insights through community building is the number one way to get teams excited about customer interactions. Interestingly, she evaluates customer community metrics by way of customer participation, not revenue.
G2's CMO, Amanda Malko, pitched in by saying that customer-centricity is furthered by getting customers together to share feedback and ideas and learn from each other.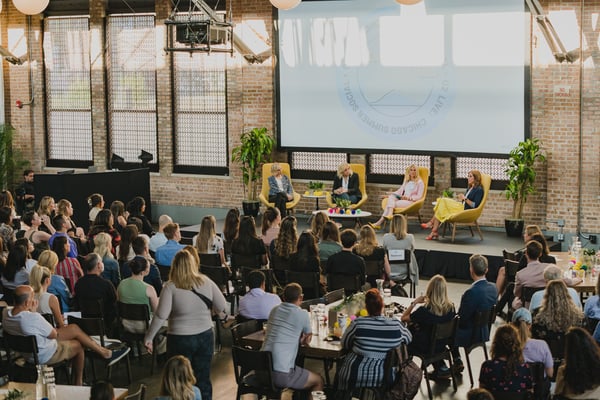 The way to gauge customer pulse is through grassroots marketing
"When businesses are starting and want to get a hold of customer feeling, what is the one thing you would advise them to do?"
For small businesses and entrepreneurs with limited resources, developing marketing strategies to understand customer needs and motivations better can seem like an unachievable feat.
But our panelists seemed to think otherwise and recommend starting with the basics, such as word-of-mouth and picking up the phone to talk to customers.
A big proponent of cultivating listening as a skill, Gilpin believes that valuable customer insights can be collected by simply listening in on sales conversations and interacting with customers directly. Having these conversations enables marketers to fully understand how the product is being used, its scope, and the challenges being faced by users.
"Be a listener and it won't matter whether you have a built-out team or are working solo."

Jamie Gilpin
CMO at Sprout Social
Another great perspective came from Pergolino, who shared her journey of foraying only into companies with customer voice as part of their DNA. When organizations and leaders choose to grow into businesses that care about customers as deeply as they do about their products, they gain a competitive advantage.
Yes, data from net promoter scores (NPS) and case studies are important, but so are digestible pieces of information gathered from customer interviews. Conant's team ensures that sales deals, wins, and losses are compiled and shared across the organization monthly. This inexpensive strategy, she says, is statistically relevant and helps tell the customer story to internal stakeholders.
When in doubt, seek customers out
The experts have spoken, and the verdict is out: it must always be about the customers. B2B companies have a unique advantage in leveraging customer feedback to understand the relationship between the product and its customers.
Building a marketing and overall customer-led business strategy is essential to creating long-term customer relations and strong brand value, and establishing feedback loops to cope with changing customer needs.
Ready to transform your business into a customer-centric one? Learn how top SaaS brands use G2's categories to position themselves as market leaders.