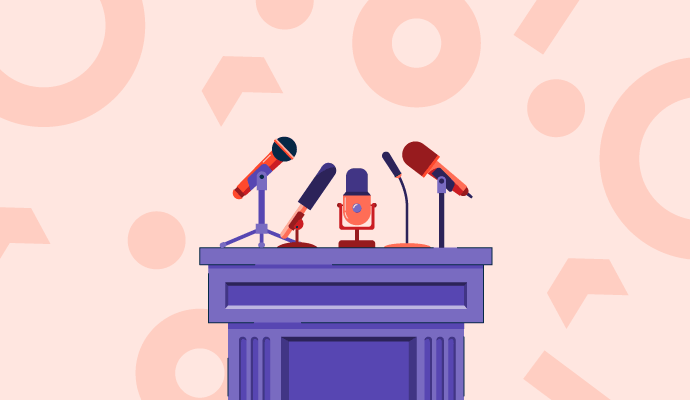 Ever thrown a party only to find out no one shows up?
This is what a public relations (PR) professional's worst nightmare could look like.
When you turn on the news, you likely see an event with a prominent person answering a group of journalists or reporters. If you read the dailies, you find similar stories of a meeting of well-known personalities with press representatives.
The event taking place here is a press conference.
Press conferences are the PR version of a party. Here, the attendees represent the public's voice – the press. Like any event, press conferences require prior preparation, time, and effort. The success of a press conference is based not only on the immense preparation but also on quality attendance and coverage.
It's a common misconception that press conferences are reserved for politicians or A-list celebrities. Instead, they're an incredible public relations tool companies can use to increase their reach and brand awareness.
Press release distribution software helps companies continue getting the word out. These tools allow businesses to publish and distribute press releases, collect and measure analytics, and stay connected to various media outlets and organizations.
Let's dive into press conferences and learn how to prepare for them.
What is a press conference?
A press conference, also known as a press meet, press briefing, or news conference, is a public relations event or public forum for organizations or individuals to keep the media informed of the latest happenings to generate timely and relevant news.
Watching press conferences for sports announcements and statements about tragedies is common. Because information travels so quickly, it's often necessary to get ahead of the news with your story instead of waiting for people to make up their narratives.
Press conferences are special events. Overusing them can result in audience turnover and greatly impact your business' reputation among reporters and your audience, just like the boy who cried wolf.
You should only hold a press conference if your event is newsworthy, timely, and relevant. When overused, such events lose coverage, and reporters lose trust in your PR abilities. If the topic isn't interesting and exciting, you probably shouldn't hold a press conference in the first place.
Importance of a press conference
A press conference is one of the most effective ways to communicate with the media and draw their attention.
PR materials like press releases, boilerplates, and media kits are great ways to get your messages heard, but press conferences are the way to go regarding a special occasion or pressing issue.
The speaker at a press conference is usually a politician, celebrity, attorney, athlete, or police chief. A press conference is an opportunity to get their side of the story across multiple media platforms. The person who plans this event is mostly a public relations professional.
Press conference advantages and disadvantages
A press conference can have many advantages and disadvantages, given the scope of its organization and the speakers involved. Here are some of the most common pros and cons of hosting press conferences that'll help you decide whether holding one makes sense.
Advantages
Press conferences offer a host of advantages. Let's look at some of the benefits of planning and executing a conference:
It's convenient and time-saving. Press conferences can disseminate the core message to many people in one go. During a press conference, all reporters or journalists gather in one place. The speaker makes the announcement only once, instead of meeting several journalists and making the same announcement or answering the same questions.
It ensures maximum impact for the information or announcement made. The fact that many reporters or journalists attended a press conference makes the announcement newsworthy.
It lets you reach a larger audience. Regardless of the number of reporters present during a conference, it will have a widespread reach once they spread the news via their respective channels.
It helps you build a relationship with members of the press or media. Having friends in the media is highly beneficial, and involving them in your press conferences is a good way to kickstart your

media relations

strategy.
It lets you control the flow of information. You only tell the press what you want it to know. It's entirely up to you to control what information to share and withhold.
Disadvantages
While press conferences provide many advantages, there are a couple of drawbacks as well, namely:
It requires planning. You need to plan a press conference ahead of time to be successful, including the logistics, correspondence between the parties involved, and several other factors.
It's less targeted. Even if someone's not a part of your target audience, they're still exposed to the information or announcement you share, and the journalists publish.
When to hold a press conference
A press conference encompasses various aspects of marketing, media relations, branding, and communication in one event.
Knowing when to hold a press conference takes practice. If your situation falls into one or more of the following, it's time to start planning one:
Break news not disclosed or covered yet
Highlight an event with a prominent personality
Respond to a PR crisis
Set the record straight related to a situation or allegation
Show support for a social cause
Several occasions warrant a conference. Here are a few examples of where businesses often hold press conferences:
Announcing changes in organizational structure. In larger companies, announcing changes or transitions in management and leadership can garner widespread attention. For example, if a company appoints a new CEO, a press conference is good to introduce them.
Going IPO. When companies go public, they usually hold a press conference to announce their upcoming initial public offering (IPO).
Launching new products and services. If your company is launching a new product line or introducing new services, hosting a conference can help spread the word effectively and efficiently.
Forming new partnerships. Press conferences are a great place to announce important collaborations or partnerships with other businesses or institutions.
Controlling damage. A press conference helps address issues or complaints from customers or the general public regarding a company's products and services.
Marketing an event. It publicizes an upcoming company event or activity, allowing the general public or your target market to participate.
How to hold a press conference
As you may know by now, a press conference is a media event where speakers make statements and respond to questions from the attending journalists. But how do you get to the point of holding it?
The easiest way to break down the preparation for press conferences is by dividing your plan into three stages: before, during, and after. That way, you can focus on one moving part at a time, not juggle many things at once.
Before a press conference
You need to complete most of the work before a press conference. The most important part of the preparation is media outreach. Create an intriguing topic to attract the media to your event. FOMO (fear of missing out) makes the press get you the media coverage you want.
The ideal time to start preparing for a press conference is two weeks, but sometimes you have to act even before the scheduled time. Preparing for a press conference takes much longer than the press conference itself.
Organizing a press conference starts with the planning stage. At this stage, you start from scratch and work your way up to the point where you can run it smoothly. The success of a press conference relies largely on planning. If done poorly, the resulting event won't be successful.
Take ample time to plan. You don't want to rush at the 11th hour. It's good to start planning a few weeks before the press conference. Not only does this ensure that you have enough time to put everything together, but you also have more room to make any last-minute adjustments.
When planning a press conference, here are some areas to focus on.
The topic
The primary goal of a press conference is to spread information among stakeholders. It's crucial to pick a relevant topic that serves as a vehicle for the business to convey its message.
Ask yourself the following questions before choosing the agenda and topic:
What message do you want to convey during the press conference?
What announcement do you want to make?
What issues is your company looking to address?
Journalists are always on the lookout for the next newsworthy event. If your topic isn't compelling enough to cover, they won't be interested in attending your conference.
Date and time
When conducting a press conference, you cannot schedule any random day and time or decide solely on whether the speaker is free. Instead, choose a date for your team and the attending journalists. Don't delay it to the extent that your statement is no longer of interest to the media.
The time of a press conference is also critical. It's best to choose when the media most likely attend. Do it at a time when you can maximize press coverage with maximum media participation.
Ensure your press conference doesn't coincide with another event that may divert journalists' attention. Consider the schedule of the invited media members, especially with work deadlines or other important events.
Location
A press conference's location is as important as the date and time. Getting to the venue should be easy for journalists. A long travel time can discourage them from attending the event.
Ideally, the location should be relevant to your event or announcement. Most businesses hold press conferences at their headquarters, particularly in large rooms or areas to accommodate large groups. For a successful press conference, the location should have all the necessary facilities and equipment, including network access, parking, and other tools and utilities for reporters.
Choosing an attractive location is key. It's difficult to hold a press conference in a confined space with poor lighting and ventilation. This can negatively impact your brand perception.
A place that facilitates interaction and communication helps you reach the right audience. If your press conference takes place on a busy street or thoroughfare, your audience has difficulty hearing you, and the speakers can't concentrate because of excessive noise.
Speakers and moderators
Media conferences involve two important players: the speaker and the moderator.
The speaker represents a business or company at a press conference. They deliver the message, announce the news, and answer journalists' questions, so you need to choose them wisely.
Regardless of whether the speaker is a senior member or intimately familiar with the company, they must study and train for the event. Going prepared is always better than going on the fly. Spontaneity is appreciated, but it cannot be the backbone of the entire event.
Your speaker (s) should prepare and share the key points during the press conference. The person speaking on behalf of your client or company must be aware of potential media scrutiny and hostility when dealing with a sensitive subject.
Media representatives
Once you've determined a suitable date, time, and location for your press conference, you can contact the people you want to attend. Get in touch with reporters and journalists and media organizations, and news agencies you'd like to invite.
Always emphasize the main topic and speaker's details when contacting media reps. If you invite the media a week or more in advance, send a follow-up email the day before.
Write and distribute a press release
A press release is an invitation to the media for the press conference. Include the press conference's date, time, and location in your press release. Also, add why you're holding it and a compelling hook to attract the reporters.
Send your press release at least a week before the event date. You can use press release distribution software to mass release your news to reporters. Get in touch with the media people you want to attend the launch via e-mail or direct phone, even if it's about the distributed press release.
Develop a press kit
A press kit provides reporters with an overview of the event and other important information. These kits contain folders with your topic, message, or issue.
Logistics
If the press conference takes place outside your workplace, it's your responsibility to supervise and handle the event logistics, including the venue reservations. As part of your planning, finalize all vendor arrangements for lighting, catering, and sound, helping you avoid any last-minute changes.
Tip: Prepare for a PR crisis before it happens to make planning your press conference easier.
Start by preparing the room on the day of the conference. Test out everything you'll use. Also, create name cards, organize extra seating, and provide beverages like water and coffee.
During a press conference
It's the day of the conference, and you've done everything possible to prepare. When the media arrives, welcome them and sign them in with their contact information. Guide them to their seats and start the event on time.
Nobody likes wasting time. Starting on time is crucial to your event's success and imperative in making reporters want to attend your next press conference.
Once the press conference begins, the speaker should start with the main points within the first 15 minutes. They should then open up the floor for questions. Schedule a 45-minute window for questions, as you only have an hour to finish the conference.
You can have a moderator keep track of time and call on reporters. This helps take some pressure off the speaker and focus on answering questions calmly and collectedly.
After a press conference
Congrats! The most stressful part is done. If you followed these steps, there's no reason your press conference isn't a resounding success.
After a press conference, don't forget to connect with the journalists personally. These connections can help you throughout your PR career.
Prepare for the worst; hope for the best!
Press conferences should improve your public image, not damage it. Preparation is key to representing your company or client better. By segregating the preparation for the press conference, you can ensure a well-attended event.
A press conference is another tool in a communications specialist's belt. Learn how to make a PR plan and realize the full spectrum of a well-crafted public relations strategy.